Kompas.com recently published details of applicable fines and penalties for motorists who cannot present a valid driver's license (SIM) or a vehicle registration certificate (STNK).
Vehicle operators unable to present a valid STNK or a vehicle title "blue book" (TNKB) or "police license plate" when asked by the police are liable to be issued a ticket by the police. Brigadier General Aan Suhanan, the Director of Enforcement for the Indonesian Traffic Police, explained the necessity of a SIM, STNK, or TNKB when operating a vehicle."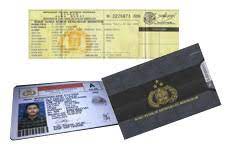 Defending the absolute necessity of drivers and vehicles possessing complete legal documentation, Suhanan said: "A SIM is proof that the driver is competent to operate a motor vehicle, while the STNK and TNKB verify the roadworthiness and legality of the motor vehicle."
Drivers discovered operating a vehicle, unable to present an STNK, and not showing a TNKB can be charged under Indonesian Traffic law (Article 280) pursuant to Article 288 paragraph 1 of Traffic Law Number 2022). Article 280 states that anyone operating a motorized vehicle without a TKNB can be subject to a maximum of two months imprisonment and a fine of up to Rp. 500,000.
Meanwhile, Article 288, paragraph 1 states that anyone driving a vehicle without an STNK can be punished with two months imprisonment and a fine of as much as Rp. 500,000.
Vehicle registrations and expired titles mean the subject vehicle is not considered roadworthy and cannot be legally operated on public roadways.
Driver's License
Those caught operating a motorized vehicle without a valid driver's license (SIM) can be imprisoned for up to 4 months and fined as much as Rp. 1 million.
Helmets
Anyone operating a motorcycle without a helmet manufactured by a National Standard Helmet Rules (BSN) can be fined as much as Rp. 250,000 or imprisoned for one month. The same fines and jail terms apply to those operating a vehicle carrying a passenger failing to wear a helmet.
Police can also issue tickets for the following infractions:
Failure to display a valid and proper license plate,
Failure to operate a vehicle without the mandatory rearview mirrors, headlights, horn, speedometer, and sound muffler.
For four-wheeled vehicles: failure to carry a spare tire, a triangular traffic hazard sign, a working jack, tire iron, and first aid box.
Motorcycles are also prohibited from carrying more than two passengers.
Related Article
Tourists Following the Rules Can Drive
Foreigners: Don't Drive in Bali
Self-Drive by Foreigners in Bali Outlawed?
Bali Deports Harlots & Driving Instructors
Police Campaign Against Errant Motorists
194 Foreigners Deported from Bali in 2022
Police Campaign Against Errant Motorists
Stay Informed on Bali Tourism-Related News: Subscribe to Bali Update