The Meteorology, Climate, and Geophysical Agency (BMKG) report a series of early morning earthquakes on Saturday, 16 October 2021, in the Karangasem region of Bali. Early reports include at least three deaths due to landslides, injuries, and extensive damage to many homes.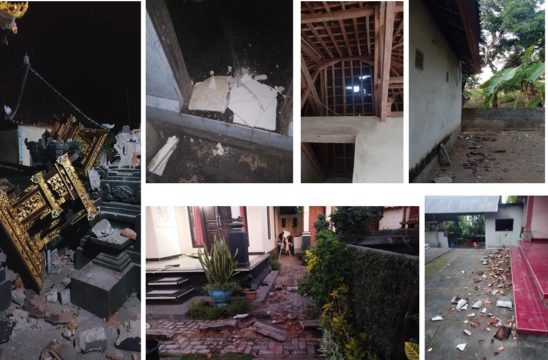 Balipost.com reports that landslides connected with the earthquake took place at Trunyan, Kintamani. Preliminary reports say three people lost their lives in the Regency of Karangasem and where 7 bone fractures were also reported.
The Balipost.com reports four people were trapped in the kitchen of a home in Banjar Persiapan Cemara Landung by a landslide. 4 other occupants of the building managed to run free of the structure during the landslide.
Made Rentin of Bali's Disaster Mitigation Agency (BPBD) also reported a broken leg caused by the earthquake.
Mid-morning on Saturday, a complete list of casualties and damaged structures were still being collated.
The initial earthquake was felt in Karangasem and across broad areas of Bali, including the capital Denpasar. The shake was also noticed in the neighboring island of Lombok in West Nusa Tenggara.
BMKG says an initial earthquake measuring 4.8 magnitudes struck at 3:18 am local time on Saturday, 16 October 2021, with an epicenter 8 kilometers northwest of Karangasem hit at a depth of 10 kilometers. A short time later, two lesser aftershocks were recorded, measuring 3.8 magnitudes and 2.7 magnitudes.
An analyst from BMKG, Daryono, said the initial earthquake was due to dynamic shifts and breaks in local area geophysical plates, possibly triggered by the migration of sub-terranean volcanic magma.
BMKG and police officials are urging the public to remain calm and not be influenced by irresponsible rumors. The public should avoid buildings that exhibit cracks in the walls and other structural elements caused by seismic events. Agus Wahyu Raharjo, the head of Denpasar's BMKG office, told the public to carefully inspect their homes for any cracks and damage before resuming occupancy of the buildings.
Related Article