The Group of 20, commonly known as The G20, will meet in Bali on 15-16 November 2022. The multi-lateral group is comprised of 19 countries and one agency: South Africa, USA, Saudi Arabia, Argentina, Australia, Brazil, China (PRC), India, Indonesia, UK, Italy, Japan, Germany, Canada, Mexico, South Korea, Russia, France, Turkey, and the European Union.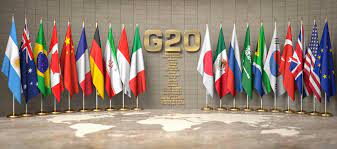 For the current G20 Summit (2022), Indonesia holds the presidency. Indonesian President Joko Widodo has confirmed that 17 countries have confirmed their attendance in Bali for the Summit. US President Joseph Biden and PRC President Xi Jinping are now confirmed to attend.
As reported by Kompas.com, the updated list of VIPs and Heads of State expected in Bali as of Thursday, 10 November 2022, are:
1. Cyril Ramaphosa, President of South Africa (15-16 November).
2. Joseph Biden, President of the USA (Arriving after a stop in Cambodia on 13 November).
3. King Salaman bin Abdulaziz Al-Saud of the Kingdom of Saudi Arabia.
4. Anthony Albanese, Prime Minister of Australia (15-16 November).
5. Xi Jinping, President of the People's Republic of China.
6. Narendra Modi, Prime Minister of India (15-16 November).
7. Rishi Sunak, Prime Minister of the United Kingdom.
8. Giorgia Meloni, Prime Minister of Italy (15-16 November).
9. Funia Kishida, Prime Minister of Japan (15-16 November).
10. Olaf Scholz, Chancellor of Germany, after stops in Vietnam and Singapore (15-16 November).
11. Justin Trudeau, Prime Minister of Canada.
12. Yoon Suk-yeol, President of South Korea (15-16 November).
13. Recep Tayyip Erdogan, President of Turkey (15-16 November).
14. Sergey Lavrov, the Russian Foreign Minister, represents Russian President Vladimir Putin.
Meanwhile, Argentina, Brazil, Mexico, France, and the European Union have yet to formally confirm their attendance in Bali 4-days before the start of the event.
Related Articles