The Department of Public Works and Housing (PUPR) is now actively investigating a gradually expanding fissure on the cliff face underneath Bali's Sacred Pura Luhur Uluwatu Temple in Pecatu, South Bali.
A PUPR Team was on scene at the Temple at midday Tuesday, 19 September, investigating how to secure the wall and ensure it does not eventually collapse, destroying the 11th-century structure and sending it crashing 70 meters into the Indonesian Ocean.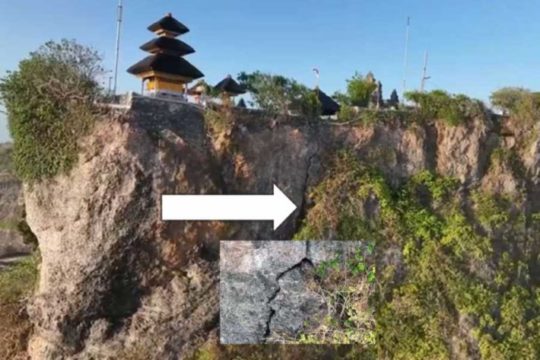 The Pecatu Village Chief (Bendesa), I Made Sumerta, told NusaBali.com that their PUPR's Badung Regency counterparts – the National PUPR Team also visited Pura Uluwatu. The visiting teams immediately set about measuring the dimensions of the area of the Main Temple (Utama Mandala). The team also surveyed the nearby stage used to present nightly Kecak Performances.
The preliminary elements of the survey conducted by PUPR are examining the physical and geophysical structure of the cliff. Once the surveys are completed, Temple and Village Officials hope a course of action will be proposed to safeguard the future of the iconic structure. 
Meanwhile, local villagers are performing religious ceremonies and prayers to seek divine protection for the work ahead.
Sumerta, the Village Chief and a Badung Regency's House of Representatives (DPRD) member, commented: "I think this should start with a ceremonial process. (In Bali) There will always be stages in addressing the seen and unseen world. Hopefully, this stage of handling the problems can be implemented soon."
Local PUPR Teams are moving ahead by building a breakwater around the base of the cliff face to reduce the risk of abrasion that might further threaten efforts to safeguard the Temple.
Related Articles
Uluwatu Temple Cliff Set to Crumble?
Plans to Strengthen Uluwatu Temple Delayed
Fears Grow Over a Balinese "Cliffhanger"
Good Omen? White Monkey Seen in S. Bali
Stay Informed on Bali Tourism-Related News: Subscribe to Bali Update