As part of a celebration of a simultaneous fine dining event happening across the globe, The Indonesian Academy of the Bocuse d Or is holding a one-night-only dinner to celebrate Indonesia's participation in the Bocuse d'Or competition held in late September 2021 in Lyon, France.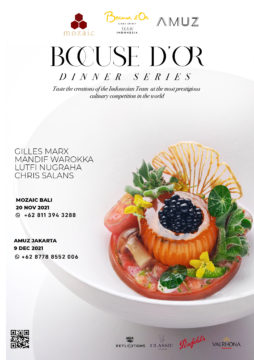 The competition, founded by the late legendary Chef Paul Bocuse, brings together 24 finalist countries competing for honors in what is widely considered as the Olympiad of Gastronomy. Indonesia was among the finalists invited to compete after completing a grueling Asian selection round held in 2018 in Guangzhou, China.
For the event in Lyon, the Indonesian Team was led by Chefs Mandif Warokka and Lufti Nugraha of Blanco par Mandif in Ubud, Bali, with Chef Chris Salans of the Mozaic Restaurant serving as head coach, and Chef Gilles Marx from The Amuz in Jakarta as team president.
Still, in the Bocuse d'Or competitive spirit, the Indonesian Team has decided to regroup in Bali and share lessons learned and the dishes they prepared in September. Duplicating their competitive entries set before a jury of the world's leading chefs, Team Indonesia will replicate their Lyon experience via a "Dinner of Champions – Bocuse d'Or Dinner Series" on one night only at the Mozaic Bali on 20 November 2021. On this occasion, participants in Bali will become the jury as they are served an indisputably "world-class" 5-course menu complemented by Amuse Bouches and Petit-Fours.
Commenting on the evening ahead, Chef Mandif Warokka, who led the Indonesian Team into culinary battle, said: "This competition has been one of the ultimate achievements in my life. I've been dreaming of bringing Indonesia into the world's spotlight with my culinary skills and experience. Competing at this level of prestige and pressure was an amazing experience. This one-time dinner in Bali will allow the audience to taste the amazing creations we presented at the Bocuse d'Or."
Mozaic Founder and Team Indonesia Coach for the Bocuse d'Or commented: "I am proud to be able to host such a prestigious dinner at Mozaic restaurant and to share all the hard work of the Indonesian Team that showcased Indonesia to the world at the Bocuse d'Or competition last September. I'm also super-excited to be able to bring in Chef Bayu and Chef Dedy to the Team to bring an additional WOW factor to the event."
Supported by Aqua Reflection, Classic Fine Foods, and Penfolds – the first dinner of the series will be at Mozaic Restaurant Gastronomique in Ubud, Bali, on Saturday, 20 November 2021.
The second dinner of the series is at Amuz restaurant in Jakarta on Thursday, 9 December 2021.
BOCUSE D'OR DINNER
THE MENU
Amuse Bouches
AUTUMN TOMATO FEAST
Cherry Tomato, Silken Tofu, and Kalamansi
2012 Chardonnay, Penfolds, Bin 311, Tumbarumba, NSW, Australia
AN OMNIUM-GATHERUM BLACK TIGER SHRIMP
Prawns, Cherry Tomato and Cumin Leaf Curry
2018 Riesling, Penfolds, Autumn, Barossa Valley, South Australia
SALMON MEDALLION
Salmon Medallion with Lobster and Scallop Mousseline,
Kaffir Lime Sauce
2017 Chardonnay, Penfolds, Koonunga, South Australia, Australia
BEEF BLADE CROWN
Braised Beef, Squash Sphere Faux Foie Gras,
Onion Soubise & Vegetables, Kluwek Gastrique
2011 Shiraz, St Henri, South Australia, Australia
BLOSSOMS OF SOLANUM
Valrhona White Chocolate, Coconut, Cherry Tomato,
Strawberries and Torch Ginger Flower
2017 Shiraz Cabernet Penfolds Bin 8 South Australia, Australia
Petits Fours
5 Course Rp. 1.200.000++/Person
Optional Penfolds Wine Pairing Rp. 500.000++/Person
All prices are subject to a 21% service charge and government tax
Reservations are required as seating will be limited due to the complexity of the execution of the menu and in deference to COVID-19 protocols.
For dinner at Mozaic in Ubud, Bali on Saturday, 20 November, Chef Bayu Retno Timur of Mandapa, a Ritz-Carlton Reserve, and Pastry Chef Dedy Sutan – both contestants for the Indonesian Team of the World Pastry Cup in Lyon, France in 2017 – will join the Team in the Mozaic's Kitchen.
The price for the dinner will be IDR 1,200,000++ per person for the food only and an additional IDR 500,000++ per person for the special premium 5-wine pairing.
The Bocuse d'Or Dinner Series will be served from 6:00 – 9:00 pm on Saturday, 20 November. Bookings can be made by calling the Mozaic at +62-361-975768 or by visiting Mozaic's website .
For dinner at Amuz restaurant in Jakarta on 9 December, reservations can be made by telephone at +62-(0)87788552006.
Mozaic Restaurant Gastronomique
Jalan Raya Sanggingan
Ubud, Bali 80571
Related Links
Mozaic Restaurant Gastronomique
RI Team Departs for Culinary Olympiad