RadarBali.com reports traffic congestion continues to be a chronic problem in Jalan Pantai Berawa, Tibubeneng and the Canggu, North Kuta area on Bali's Southwest coast. Traffic jams have become a daily occurrence precipitating numerous discussions on social media.
Pantai Berawa and Canggu have become one of the busiest areas on the West Coast of Bali, witnessing a boom in new accommodation providers, restaurants, and nightspots. Local media increasingly runs articles focussing on the violation of local zoning laws and the noise pollution occurring in the area.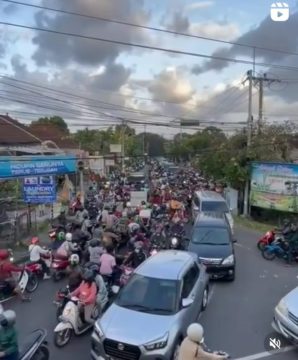 The Instagram Account of Gede Kus complained of traffic jams on Jalan Pantai Berawa, blaming the lack of adequate traffic infrastructure. "I ask for attention to be paid to the infrastructure in the area of Jalan Pantai Berawa, Badung Regency, Bali, to enhance the sense of safety of both local residents and tourist visitors. These things must be prioritized, but why has there been no official attention paid (to this problem) by the authorities? This is embarrassing," wrote Gede Kus on social media, accompanied by videos depicting the condition.
Similar sentiments were voiced by Bali social activist Wayan "Gendo" Suradana, who also touched on the failures of government agencies to effectively deal with traffic congestion in the Jalan Pantai Berawa and the Canggu District that continues to afflict the community to this day. Adding, in postings on Instagram: "It's like the infrastructure in Canggu and nearby has for a long time can't be sorted out? While in fact, the areas generate huge amounts of tax revenue for the Regency of Badung. In fact, many members of the Badung House of Representatives live in this area."
The outspoken lawyer and community activist drove home his point, adding: "Maybe these officials (DPRD Representatives) seldom leave their homes, failing to see the real situation and make infrastructure improvements part of their budget proposals. Maybe the department of public works (@dpuprbadung) is too busy and has failed to include Canggu in its development budgets. Also, maybe the Regent of Badung (@giriprasta) is just assuming that the tourists in his regency were doing just fine to the point over the period of two terms of office, his leadership in Canggu escaped making budget allocations for the revitalization of the existing infrastructure. Maybe it's that way, no? Or, alternatively, maybe it's me who's stupid for even discussing this problem."
Meanwhile, the head of the Public Works and Zoning Agency, IB Surya Suamba, confirmed on Saturday, 26 November 2022, that he does not deny that traffic jams are frequent occurrences in Jalan Pantai Berawa, Tibubeneng. However, the Badung Regency Government plans to carry out infrastructure improvements for the Jalan Pantai Berawa area.
Explaining: "Later, in 2023, we will improve drainage and sidewalks. These plans have been included in the 2023 budget (APBD)." Tibubeneng Village regularly undertakes traffic detours and diversions to unravel traffic jams. Nonetheless. traffic jams still occur from time to time.
Related Articles