Indonesia's President Joko Widodo has declared an intent to vaccinate five million people each day, increasing from the previous target of one million.
As reported by Kompas.com, the higher target was announced by the Minister of Health, Budi Gunadi Sadikin, following a closed-door meeting with the President, the COID-19 Czar who is the Coordinating Minister of Maritime Affairs and Investment Luhut Binsar Pandjaitan, and other key players in handling the current health crisis on Tuesday, 06 July 2021.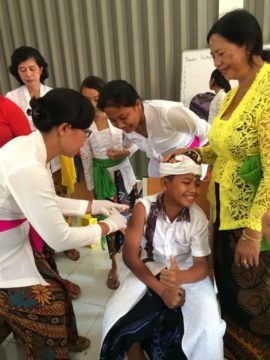 The Health Minister said: "The President hopes that Indonesia can achieve the target of one million vaccinations per day in July. In August, the number of vaccinations should reach two million per day. The President wants the number of daily injections to increase to five million per day eventually."
Because of the delivery of new vaccines, Sadikin is confident that the President's desire to inoculate one million Indonesians each day can be accomplished. What's more, he stated that in August 2021, Indonesia would receive 45 million more dosages of COVID-19.
The Minister is hopeful that Indonesia will eventually be able to inoculate two million people every day.
Through Monday, 05 July 2021, a total of 14,035,934 Indonesian residents have received both the first and second COVID-19 vaccination. This number includes groups prioritized for vaccination, such as medical personnel, public officials, and the elderly.
The number of Indonesian residents who have received at least the first injection now totals 32,302,268 people.
Related Articles
Working Towards Bali-Wide Inoculation
Bali Visitors Need Vaccination Certificate