On the eve of the much-anticipated Pacific Asia Travel Association (PATA) Travel Mart in New Dehli, October 4-6, 2023, Umberto Cadamuro of PACTO DMC spoke to TRAVEL TALK to share his thoughts and insights on the Indian market traveling to Bali and the rest of Indonesia.
Cadamuro is the Chief Operating Officer (COO) of PACTO – Indonesia's largest Destination Manager Company (DMC). Since its founding in 1967, PACTO has been undisputedly recognized as a "pioneer" in Indonesian tourism. PACTO maintains Medan, Jakarta, Bandung, Yogyakarta, Surabaya, and Bali offices. Cadamuro, the Italian-born COO of PACTO, is based in Bali when not traveling the globe on company business.
Demonstrating its well-deserved "pioneer" status, PACTO was among the first Indonesian travel companies to recognize the potential of India's outbound travel market. In 2006, the Indonesian DMC formed a close working representative relationship with the owners of Absolute Hospitality Services, Randhir Narayan and Anuradha Singh, to tap into the growing interest in travel to Bali by Indian travelers.
Asian-Pacific tourism is rebounding robustly in the post-pandemic era and is on target to be the world's largest outbound travel market by 2025, with an estimated value of US$ 490 billion. Underlining the rapid economic growth in Asia, 75% of the emerging travel market will comprise Asia travelers.
According to CNN, the boom now underway in the Asia-Pacific's travel sector portends that the value of India's outbound travel will exceed US$42 billion by 2024. In 2022, the number of Indians taking international trips increased by more than 137% compared to the previous year. Many predict an even more significant "boom" in Indian outbound travel awaits as Indians, once compelled to stay at home by pandemic travel restrictions, are now packing their suitcases to address unrequited wanderlust.
According to Cadamuro, the Indian market has returned to Bali and shows every sign of remaining a dominant force in the years ahead.
268,590 Indians visited Indonesia in 2022. demonstrating a solid growth pattern, by the end of the first quarter of 2023, 77,880 Indian direct tourist arrivals landed in Bali. Not included in these counts are the thousands of Indian travelers who landed first in Medan, Sumatra, and Jakarta before continuing to the Island of Bali.
Due to the sudden growth in Indian tourists to Bali, Indian tourists now represent the second-largest source market to the Island, following Australians, who hold the pole position.
China, the UK, and the United States complete the top five rankings.
Bali and the rest of Indonesia have reopened their doors to the world. The citizens of India are included in the list of 92 countries granted visas on arrival. Quarantine and vaccination requirements have been waived for incoming travelers.
With Indian arrivals to Bali now averaging between 50,000 – 60,000 tourists arrival each month, the Indonesian government is targeting to increase that monthly average to 100,000 – a number that will rival the Australian market's current performance. To boost Indian numbers, Indonesia is expanding travel promotion to the Indian market and is preparing to welcome direct flights from India to Bali's Ngurah Rai International Airport.
Through the end of June 2023, Bali immigration recorded a 533.68% year-on-year (YOY) increase in foreign tourist arrivals totaling 2.429.284.
According to Cadamuro, current trends in arrival from India and imminent direct flights from India to Bali suggest India and Australia will soon be running neck-to-neck to be named the largest source of foreign visitors to Bali. Cadamuro's comments are echoed by the Indonesian Minister of Tourism and the Creative Economy, Sandiaga Uno, and the Provincial Secretary of Bali, Dewa Indra, who say the imminent commencement of direct flight services from India to Bali is sure to boost the already strong arrivals from India to Bali.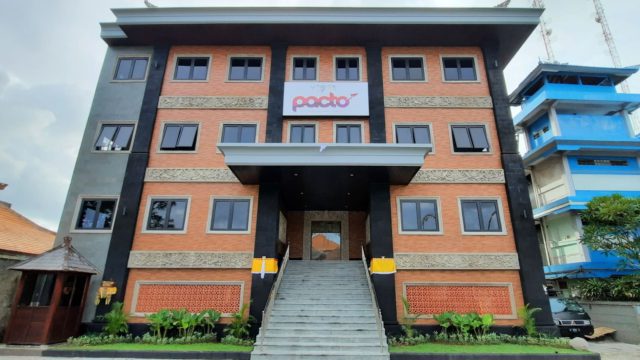 Cadamuro says that PACTO's proud, yearslong track record and growing experience in welcoming Indian travelers to Bali ensures his team offers excellent value across the entire range of accommodations available on the Island. While a strong preference continues for hotels and private villas in Bali's popular destinations of Sanur, Kuta, Seminyak, Legian, Canggu, Ubud, and Nusa Dua – Indian tourists are now also exploring the nearby islands of Lembongan and Penida.
Island visits to Bali by Indians now go far beyond visits to traditional cultural sites and performances. Indian tourists to Bali, young and old, also now come in search of bespoke shopping experiences, adventure sports opportunities, and spa and wellness therapies,
Happily, the surge in Indian travel to Bali has also resulted in the creation of a range of restaurants serving Indian cuisine.

Related Links
Pacto Opens New Bali Headquarters
Stay Informed on Bali Tourism-Related News: Subscribe to Bali Update