The KMP Nusa Jaya Abadi Ferry operating between Padang Bai in Bali and Nusa Penida Island returned to service on Wednesday, 30 December 2020, following its removal from service since 17 October 2020, when it struck a reef at Nusa Penida and damaged its rudder.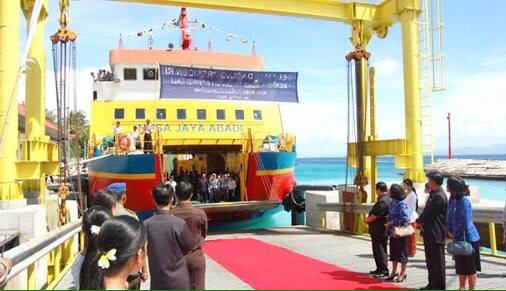 Initially, the Regency of Klungkung, which operates the roll-on-roll-off-ferry, said the vessel would be out of service for only two weeks. Tribun-Bali.com quoted the Head of the Klungkung Transportation Service, I Nyoman Sucitra, who blamed the long delay on the difficulty of securing spare parts, which were eventually located in Kalimantan.
On Wednesday, 30 December 2020, Sucitra confirmed repairs had were completed and scheduled services could recommence.
The 629 gross ton RoRo Vessel with a crew of 18 and the capability to carry 210 passengers, six trucks, and eight cars between Bali and nearby Nusa Penida Island will operate 12 weekly round-trip voyages, an increase from its regular schedule of 9 trips per week.
Klungkung officials are budgeting for a complete docking and overhaul of the ferry in 2021 at an estimated cost of Rp. 2.4 billion.
The ferry operation yields a monthly income of between Rp. 600 and Rp. 700 million, requiring an annual subsidy of some Rp. 2 billion from the Regency to sustain operations. 
Sucitra said that traffic on KMP Nusa Jaya Abadi is dominated by essential goods and other products destined for Nusa Penida. Passenger traffic, seeking a faster trip, are generally drawn to using the speed boats operating from Sanur Beach. 
Related Article