The latest installment in a series incidents exposing Bali visitors misbehaving, the Badung Regency Enforcement Agency (Satpol PP Badung) raided and brought to an end a party underway at Le Giant Pool & Bar located on Jalan Legian No. 92, in Legian, Kuta on Thursday evening, 25 June 2020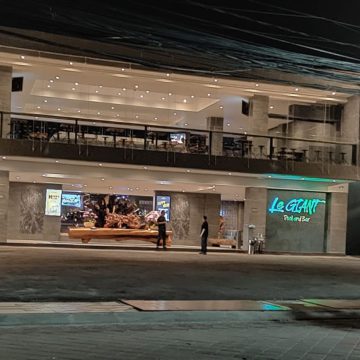 Kuta Traditional Village Chief (Bendesa), Wayan Wasista, told Kompas.com that the abrupt dispersal of attendees followed complaints received from residents living near Le Giant Pool and Bar. When authorities arrived, they discovered that the guests, mostly foreign nationals, were not wearing face masks or following physical distance protocols. Wasista explained: "We stopped the party at 9:00 pm because it was very crowded. People can't behave like this. We are enforcing the regulations. People were not wearing masks or keeping physical distance rules ."
The Head of Satpol PP Badung, I Gusti Agung Kerta Suryanegara, confirmed that Le Giant Pool and Bar's management has been summoned to provide a formal explanation. The Bar has also been ordered closed beginning on Friday, 26 June 2020. The Enforcement Agency pledged to hand the case to the police for prosecution if any further violation of the rules occurs or the nightspot tries to reopen.
Suryanegara said when his officers arrived at the scene, a loud party was in full swing attended by hundreds of foreigners. In flagrant violation of rules issued by the Governor of Bali and regional officials, those attending were not wearing the mandatory face masks and failing to keep a healthy distance. The current concession granted by the local government allows restaurants and bars to serve a maximum of 25 guests.
"We stopped the party at 9:00 pm because it was very crowded. People can't behave like this. We are enforcing the regulations. People were not wearing masks or keeping physical distance rules ."

Kuta Traditional Village Chief (Bendesa), Wayan Wasista
Bali Post reports that on Friday, 26 June 2020, a team for the Intelligence and Enforcement Division (Inteldakim) of the Ngurah Rai Immigration Office, accompanied by members of the Armed Forces, Police, and Satpol PP – visited the Le Giant Bar and Pool to determine what, if any immigration rules may have been violated.
Growing List of Errant Events
On Wednesday evening, 10 June 2020, a raid by police and enforcement agency officials closed a similar gather at the Old Man's Bar at Batu Bolong Beach in Canggu, North Kuta.
More recently, on 24 June 2020, a crowded gathering at the House of Aum in Ubud comprised of "new age" devotees led by a Syrian yogi and life-coach was broken up for endangering human life by refusing to follow health and physical distancing protocols. After reviewing the incident, Bali immigration officials revoked the temporary resident permit of Syrian Wissam Barekeh, who is now in detention awaiting deportation.
Related Articles
Reckless Disregard for Public Safety