An Australian man, Samuel Lockton of Melbourne, has been ordered to leave Indonesia after being determined to have violated the sanctity of a sacred temple site in Tabanan Regency, West Bali. As reported by NusaBali.com, Samuel Lockton was photographed climbing a sacred fig tree at Pura Dalem Prajapati Banjar Dadakan, in the traditional village of Kelaci Kelod, Desa Abiantuwung, Kediri District, on Saturday, 11 June 2022.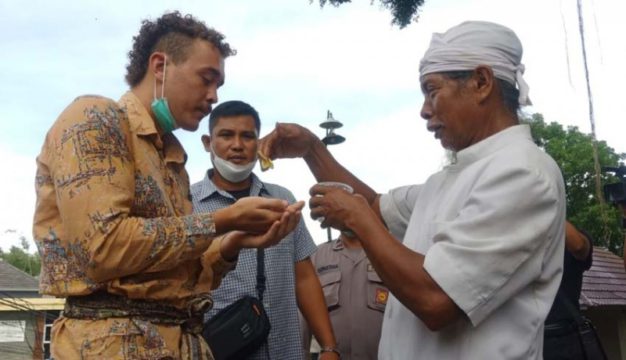 The Bali Immigration office confirmed on Friday, 17 June 2022, that Lockton had been ordered to leave Indonesian territory,
The head of the Bali Ministry of Law and Human Rights, Anggiat Napitupulu, explained in a written statement that the expulsion order for Lockton was a sanction authorized under Section 75 of Immigration Law Number 6 of 2011. "Immigration officials are empowered to undertake administrative steps against foreign nationals determined to have disrupted public order and violating local regulations," Anggiat explained.
Indonesian immigration ordered Samuel Lockton to leave Indonesia after disturbing the peace by climbing an ancient tree in a temple complex. "We have ordered him to leave Indonesia. But, his stay permit remains valid. Why have we not deported him? This is because the traditional village did not formally report the foreign national," explained Tedy Riyandi of the Denpasar Immigration office.
Lockton continues to hold a valid stay permit, but because of his behavior, he has been ordered to leave Indonesian territory. Lockton obtained a visa-on-arrival that could have been extended for 30 days. But, because of the order to leave the Country, Lockton left Indonesia on Jetstar Airways (JT82) bound for Darwin, Australia, on Wednesday, 15 June 2022.
Lockton's order to leave Indonesia follows the deportation of an Australian woman last month who uploaded nude photographs of herself taken under a sacred tree in a temple complex. In a separate case, a man who posed nude atop Mount Batur was also recently deported,
Tedy Riyandi reminded visitors to Bali that a number of places – including mountains and temples, are sacred prayer sites to the Balinese.
Related Sites
You Can Run But Not Hide from Immigration
Bali Deport 5 Moldavians & 1 Russian
Bali Deported 194 Foreigners in 2021