The Medical Special Economic Zone (SEZ), now in Sanur, Bali, featuring the State-owned Bali International Hospital (BIH) – managed in cooperation with the world-renowned Mayo Clinic (USA) will be staffed by highly-qualified foreign doctors, Indonesian physicians, and "diaspora doctors" offering health services in six health care area.
"Diaspora doctors," in this instance, are Indonesian doctors who are medically qualified abroad in their respective areas of expertise. They will soon have their academic accreditation accepted in Indonesia and be allowed to practice at BIH.
Speaking at a "Talk Show" on "Challenges and Opportunities of Indonesia's Medical Tourism" held at the Hotel Puri Santrian on Monday, 23 January 2023, the CEO of PT Pertamina Bina Medika-Indonesia Healthcare Corporation (IHC), Dr. Mira Dyah Wahyuni, said: "Foreign doctors and diaspora doctors who have graduated abroad can practice in the Medical Special Economic Zone in Sanur.
The "Talk Show" presentation also invited the Deputy Governor of Bali, Tjokorda Oka Artha Ardana Sukawati, the Sanur Development Foundation IB Sidharta Putra chairman, and representatives of the Bali Tourism Board (BTB).
The Deputy-Governor of Bali, Cok Ace, told the audience that the completion of the Bali International Hospital is targeted for completion in Q4 of 2023 with full operations scheduled for 2024.
One of the finest medical facilities in the world – Mayo Clinic (USA), is collaborating with IHC and other agencies to design, construct, manage, and create service standards of the highest standard for the Bali International Hospital (BIH) and the Sanur Special Economic Zone (SEZ).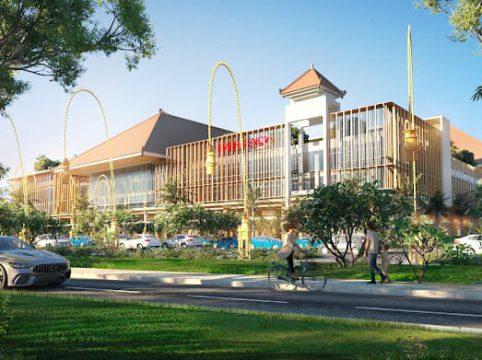 Quoted by the State News Agency Antara, the Deputy Governor said: "The goal is to position the BIH's quality, security, and patient experience at the highest international standard so Indonesian patients will no longer need medical treatment abroad."
Dr. Mira added that under the new Minister of Health Regulation Number 1 of 2023 on the operation of hospitals in Special Economic Zones, it is hoped that foreign medical personnel with suitable qualifications will be allowed to practice in the Sanur Special Economic Zone.
Over time, the aim is to bring a pool of internationally talented medical professionals to Bali, where their extensive knowledge of modern medical practice will be shared and transferred to local practitioners. Similarly, advanced methodologies in applying and using pharmaceuticals and traditional medicines will be shared and learned.
Meanwhile, there is a large number of "diaspora" doctors – Indonesians who have trained and learned their medical skills in countries outside of Indonesia, who wish to return to their homeland and apply their considerable talents to help patients in Indonesia. Current rules and regulations proposed to be changed for the SEZ do not accept medical certification earned abroad.
In explaining the plans to allow foreign doctors to practice at the BIH, Dr. Mira explained: "We are open to foreign doctors practicing (at BIH) because health is now a global field, and we can no longer create fences and barriers (in the practice of medicine)." Many Indonesian doctors have also opened medical practices in Singapore and other overseas locations.
Mira said that BIH has begun recruiting specialist doctors, resulting in 100 applications now in hand.
All applicants will undergo review and testing addressing psychological suitability, English competency, and technical skills in their respective fields. Because of the large number of doctors required for the BIH, the managers of the new international-standard hospital are seeking a large number of applicants to allow a careful selection of the best in their field.
The IHC directors say the doctors and medical personnel selected will be chosen solely based on their professional competence, regardless if they come from Bali, Sanur, Klungkung, or anywhere in the world.
"Bali International Hospital is committed to establishing Bali as a leading international medical tourism destination so that Indonesians will no longer feel the need to seek medical care overseas," said Dr. Mira.
Mira elaborated, saying that it is estimated that Indonesia loses Rp. 97.6 trillion in foreign exchange every year, resulting from two million Indonesians traveling abroad for medical examinations and treatment.
The Bali International Hospital will offer 250 in-patient beds and six medical specialty centers, including cardiology, oncology, neurology, and critical medical care. Other leading medical specialties at BIH are gastroenterology, orthopedics, and complete medical check-ups.
Voicing his full support of the Sanur Special Economic Zone (SEZ), Deputy-Governor Tjokorda Artha Ardhana Sukawati (Cok Ace) said all the people of Bali eagerly await the BIG project. "The idea of developing the international medical center is now being prepared for operation and does not require further public debate," said Cok Ace.
The Deputy-Governor called on all parties to embrace and support the successful implementation of the Medical SEZ in Sanur, Bali, to encourage domestic and international patients to come to the Island for treatment.
In closing, Cok Ace said: "The provincial government remains optimistic and fully supports this project. What's more, Bali's strategic position is to offer medical tourism and serve as a place of healing, contributing to a sense of well-being and peace for all patients seeking care."
Related Articles
Mayo Clinic Cancer Care Center
Bali Cancer Center to Open with Famed Mayo Clinic