Let there be no doubt – the global aviation sector is stumbling on the verge of collapse due to the continuing impact of the global COVID-19 Pandemic.
The phenomenally successful Singapore Airlines (SIA) – once the poster-child of global aviation – has reported suffering a US$ 2.57 billion loss through September 2020.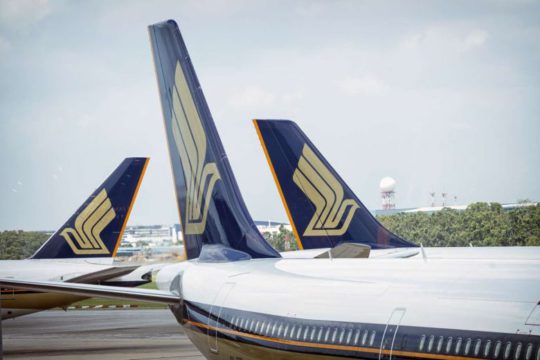 As reported by Kompas.com, the massive loss by Singapore Airlines is linked to the COVID-19 Pandemic that has universally dented global demand for air travel. In Q3 2020 alone, SIA lost 2.34 billion Singapore dollars and earned the dubious distinction of becoming the worst quarter in the Airline's financial history. The disastrous Q3 2020 for SIA was preceded by the second-worst three months of Q2-2020 when the Singapore National flag carrier lost 1.12 billion Singapore dollars.
Nikkei Asia reported on Sunday, 08 November 2020, saying most Singapore Airline's red ink emanates from depreciation expenses of 1.33 billion Singapore dollars charged against an aging air fleet. As a result, SIA will soon retire 26 aircraft from its total fleet of 222 aircraft.
According to samchui.com, Singapore Airlines has "deemed surplus to their requirements" 26 aircraft that will be soon retired. The Singapore Airline Group will soon lose:
Seven Airbus A380
Four Boeing 777-200/200ER
Four Boeing 777-300
Nine Airbus A320 (SilkAir fleet)
Two Airbus A319 (SilkAir Fleet)
Singapore Airlines has concluded that long-term business plans reveal that their armada far exceeds the current demand for aircraft seats.
Singapore Airlines is among the worst affected Asian air carriers impacted by the COVID-19 Pandemic. This is chiefly due to the Airline having no domestic routes to help bridge the current business downturn.
Struggling to regain an economic footing, SIA flew to 43 countries at the end of September 2020, increasing from the 32 countries served at the end of June.
Passenger demand remains weak for the flights operated by SIA.
For the three months ending September 2020, the Singapore Airlines Group, including their low-cost subsidiaries Silk Air and Scoot, carried 98.8% fewer passengers than in the same period one year before. Cargo volume was down 44%.
Revenues in Q3 2020 declined more than 80% year-on-year for SIA. Due to weak demand, 143 of the 222 SIA's passenger and cargo aircraft are now grounded. SIA's financial position remains strong due to the Airline's ability to garner 11.3 billion Singapore dollars in stand-by funding, new stock issuance, and extensive cost reductions programs.
SIA says they have permission from their shareholders to accumulate 6.2 billion Singapore dollars via convertible bonds.
Related Article
Singapore Airline Axes 4,300 Workers