Advertorial
Nyepi at Hoshinoya Bali in Ubud to Rejuvenate the Mind and Soul
To celebrate Nyepi – the Balinese New Year and the annual "day of silence" on O3 March 2022, HOSHINOYA Bali presents a two-night program – The Tranquil Silence Day Package that enables guests to delve into a spirit of quiet reflection, relieved from "busyness" and "business" of daily life.
Guests can experience this unique occasion with inspiring activities and immerse in the traditions of the Island of the Gods as they embrace total renewal.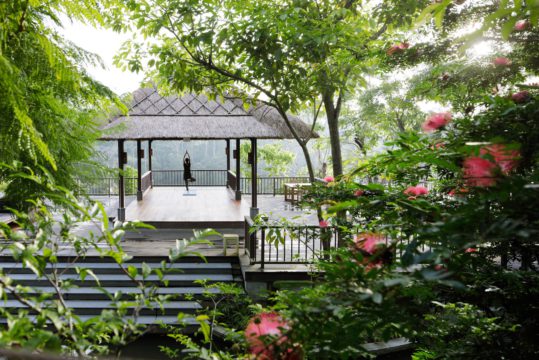 Observed in silence by the entire Island, the Balinese dedicate Nyepi day to introspection and spiritual cleansing. Nyepi is a day marked by the closure of the international airport and an island-wide ban on the use of fire, electricity, sound amplification. Even venturing forth from places of residence is prohibited. The resulting ghost town atmosphere creates the ideal condition for stargazing and a discreet and amazing candle vigil.
HOSHINOYA Bali is the perfect oasis where guests can spend the "day of silence" quietly experiencing a range of activities. This includes painting a Japanese-inspired Ogoh-ogoh, stargazing into the complete darkness of this special night, floating candles in a long pool, and various other cultural and wellness activities.
All activities are complimentary for in-house guests.
Ogoh-ogoh Painting & Parade
The preparation for Nyepi celebration rituals starts with the crafting of the Ogoh-ogoh a giant, demon-inspired puppet. The Balinese believe that these puppets, along with the loud sound of the gamelan orchestra and fire torches as they parade on Nyepi eve, attract the demons and evil spirits inhabiting the island. These "undesirables" then "invade" the Ogoh-ogoh puppet monsters that, by tradition, get their just desserts by being burnt together at the end of the day.
In Japan, which is the origin of the HOSHINOYA brand, there is a similar tradition practiced during the Setsubun Festival in February. Soybeans are thrown to drive out demons, known as Oni – a gigantic ogre-like creature with a single or multiple horns and tusks. People cast beans indoors or on the outside of their homes while shouting "Oni wa soto! Fuku wa uchi!" meaning "Oni go out! Blessings come in!".
Celebrating a fusion of two great world cultures, at HOSHINOYA Bali a 160 cm Ogoh Ogoh shaped like the Japanese demon, Oni, is being crafted by local Banjar Pengembungan artisans to acquaint travelers to this inspirational Balinese culture. Guests are also invited to join in and help paint the "Ogoh Ogoh Oni."
On the eve of the New Year, this Japanese-inspired Ogoh-Ogoh will be paraded inside the resort. Visitors to the lobby from 9:00 am until 6:00 pm between the dates of 25 February and 01 March, are encouraged to add their painting touch to the Ogoh-Ogoh cum Oni.
The Ogoh-Ogoh parade will take place on Wednesday evening, 02 March 2022.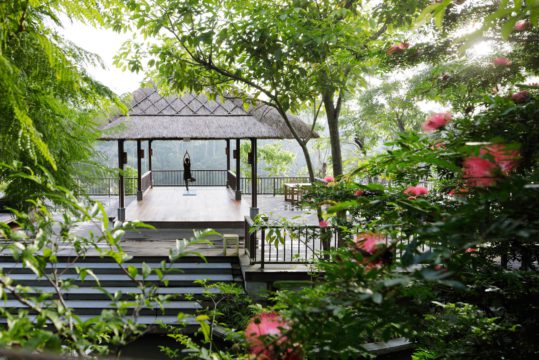 Sun Salutation Yoga
Guests are invited to start the day by purifying their minds and bodies through yoga practice surrounded by the vastness of nature and morning mist from the nearby Pakerisan River Valley. Fresh coconut water is served after each session. No reservation is required.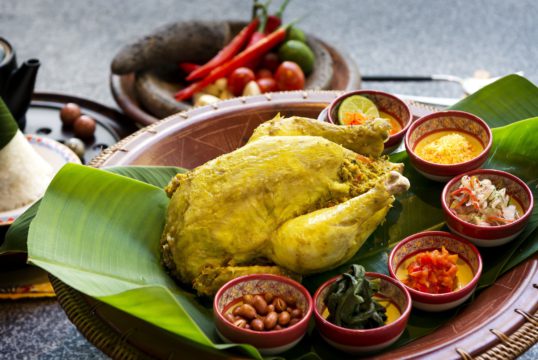 Cooking class Ketupat & Jaje Bantal
Those curious to know what the locals eat should join a Nyepi-themed cooking class featuring Ketupat rice cakes served with soup and Jaje Bantal – a dessert made from sticky rice, grated coconut, sugar, banana, and jackfruit.
The Cooking class is available on Thursday, 03 March from 11:00 am until 12:00 pm at The Public Gazebo.
Star Gaze in Complete Darkness
With the entire island of Bali's lights turned off for 24 hours, there's no better time to take advantage than star gazing at the clear Ubud sky, full of bright stars shining in the darkness. Just look up, inhale the fragrant incense, meditate, or just lay back and contemplate the wonders of the vast universe, and while you're at it, photographically capture some stunning images.
Take this opportunity to learn about zodiac signs using an Augmented Reality Application. Then, complete the experience by enjoying a warm cup of ginger tea during the stargazing session.
Look up and join the universe on Thursday, 03 March from 8:30 pm until 9:00 pm at Spa Reception.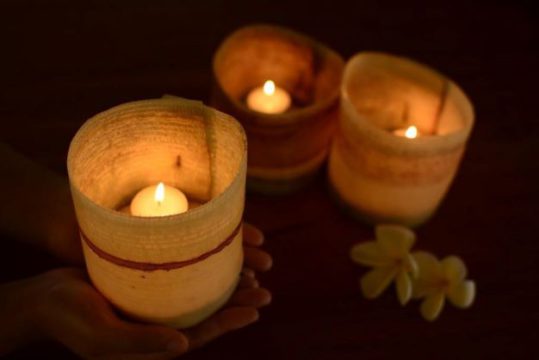 Candle Night
This "Day of Silence" is also a thoughtful time to gaze out into the jungle and embrace the peaceful darkness. Enjoy this mindful time with a dimly lit candle and detox from the digital world to focus on what matters most in life, while welcoming a renewed sense of inner peace and calmness.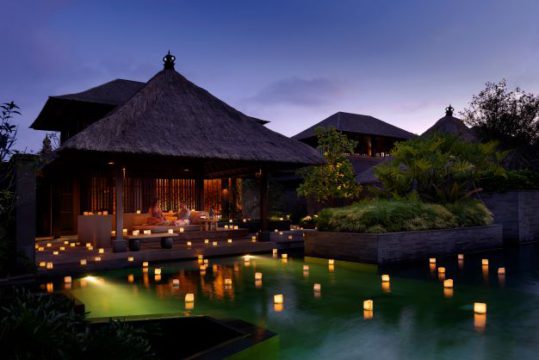 The 70m-long pool, designed to resemble a river where Balinese traditionally bathe, will be illuminated with subtle candle lights. Make your own candle holder and join the group floating their candles from the poolside villas' gazebos on this memorable night of quietude.
To prepare for this event, a candle-making workshop will be conducted on Thursday, March 3, from 4:00 pm until 5:00 pm at the reception area.
Culinary Feast of Ayam Betutu
Experience a quintessential Balinese dining experience designed to please your senses of taste, sight, and sound. A special feast featuring a whole-chicken Ayam Betutu accompanied by Ayam Jejeruk, sambal bongkot, Lawar ayam, Ares, Rujak Rambutan, Serombotan, tempe medadah, sate languan, Ongol-Ongol, Jeruk Bali, and Jaje Pulung Nyepi await – all meticulously prepared by the executive chef, Mitsuaki Senoo.
This special Balinese feast is available for in-room dining only on Thursday, 03 March, from 5:00 pm until 7:00 pm
The Tranquil Silence Day Package
The Tranquil Silence Day Package is valid for a minimum 2-night stay over Nyepi, from 02-04 March 2022, including daily breakfast, the Nyepi dinner on 03 March for two persons, and all wellness activities mentioned above.
Prices starts from Rp 13,086,400++ per villa.
Available only by direct booking, reservations are required via WhatsApp (+62-878-7511-0511) or by Email .
To see more enticing visual images of The HOSHINOYA Bali river valley visit the Resort on Instagram where special offers ready for booking can be found.
Domestic bookings with discounts up to 40% are available online.
About HOSHINOYA Bali
Where traditional Balinese culture meets Japanese aesthetics of space.
Designed by Japanese architect Rie Azuma, these 30 villas, Bulan, Soka, and Jalak, have semi-private pools and a pool-side lounge area nestled within a dense three-hectare stretch of rainforest, rice fields, and temples. The Resort features the iconic Café Gazebo floating in the jungle, Japanese-style Futon beds, and doors inspired by Shoji sliding doors. Witness also the fine Balinese design finishes such as intricate wooden carvings hanging from walls and batik lamps illuminating the beds.
This leading Japanese hotel management company, Hoshino Resorts Inc. saw CEO Yoshiharu Hoshino open the first overseas "HOSHINOYA,", in Bali in January 2017.
HOSHINOYA Bali Awards
2021 Condé Nast Traveler "Gold List" as one of the Best Hotels and Resorts in Asia
2021 Condé Nast Traveler "Readers' Choice Awards" as Top 10 Resorts in Indonesia
2018 Travel + Leisure "It List" as one of the Best New Hotels Around the World
2018 Condé Nast Traveler "Hot List" as one of the Best New Hotel Openings
About HOSHINOYA
Luxury hotels embodying the individual characteristics of local land, history, and culture.
HOSHINOYA presents accommodation created with distinct themes – drawn from each locale's unique land, history, and culture. HOSHINOYA pays careful attention to detail that is woven into every aspect of the design and hospitality of these distinct themed properties.
This is the one-of-a-kind world of HOSHINOYA.
Guests can enrich their hearts by experiencing spiritual epiphanies born of travel and a unique stay experience.
About Hoshino Resorts
Hoshino Resorts was first established as a Japanese inn/ryokan in 1914 in Karuizawa in Nagano Prefecture before embarking on the operation of other resorts in Japan. Today, a highly influential hotel management company has evolved run by the 4th-generation of Yoshiharu Hoshino family. All the company's properties provide a unique experience focused on the local charms of each destination and a high level of Omotenashi, Japanese-style hospitality. Since 2001, the company has expanded rapidly beyond Karuizawa and now operates more than 40 accommodations venues both in and outside Japan in one of the following categories:
Luxury hotel brand "HOSHINOYA"
Hot spring ryokan brand "KAI"
Countryside resort hotel brand "RISONARE"
City tourism hotel brand "OMO"
Free-spirited hotel brand "BEB"
For more information, please visit Hoshino Resorts Website
HOSHINOYA Bali
Banjar Pengembungan, Desa Pejeng Kangin,
Kecamatan Tampaksiring,
Gianyar 80552 Bali, Indonesia
Reservation WhatsApp: +62-878-7511-0511
Reception Telephone: +62-361-849-3080
Related Link