The recent pronouncement by Bali Governor Wayan Koster seeking Jakarta'a agreement to withdraw the visa-on-arrival facility (VoA) for Russian and Ukrainian citizens has triggered an angry, emotional response from Ukraine's Ambassador to Indonesia, Vasyl Hamianin.
In advocating the revocation of the VoA for Ukrainians and Russians, Governor Koster linked his request to the incidents of criminality and violation of local regulations committed by the citizens of those two countries. In recent weeks, Bali Immigration authorities have deported many Russian citizens from Bali for working illegally or overstaying their visas. Russians have been apprehended for various immigration violations, including working as commercial sex workers, running a motorcycle driving school, and self-employment as a professional photographer.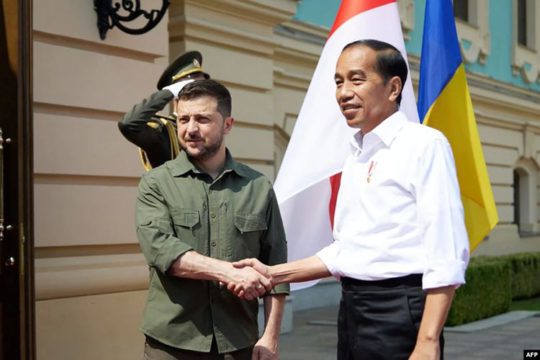 As reported by Beritabali.com, Ambassador Hamianin vehemently rejects that the actions and activities of Ukrainians in Bali are linked with the actions of Russian nationals and says he has taken offense to recent comments by Bali's Governor. As a result, the Ukrainian Ambassador demands that Governor Koster clarify his statements and reveal complete data on the number of Ukrainian and Russian tourists in Bali breaking the law.
Speaking during a virtual press conference on Tuesday, 14 March 2023, the Ukrainian Ambassador said he would like to review the official statistics on the crimes committed by Ukrainians in Bali that would warrant them being removed from the list of countries eligible for a visa-on-arrival.
The Ukrainian Ambassador estimates only some 5,000 Ukrainian citizens live in Bali, much less than the 60,000 Russians he estimates occupy the Island.
Hamianin says the majority of Ukrainian living in Indonesia are staying on the Island of Bali, with only a smattering of Ukrainians living in other locales, such as Jakarta, Bandung, Yogyakarta, and Ambon.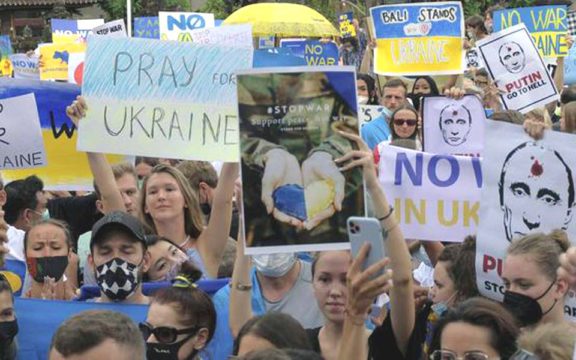 Underlining his demand to Bali's Governor, Ambassador Hamianin asked Koster to "kind heartedly" present and publish the statistics on any illegal activities by Ukrainians living in Bali The Ukrainian Ambassador would like to see if errant behavior by Ukrainians is sufficient to warrant revoking future Ukrainian visitors access to the VoA.
The Ambassador refused to directly discuss Russia or its people but was adamant that Ukrainians not be placed in a single category with Russians.
Pointing out a critical difference between the two nations, Ambassador Hamianin said that while some Russians come to Bali to avoid being drafted into a war, many Ukrainians have evacuated to Bali to seek safety from the Russian military invasion. Adding: "When the bombing and the explosions stop, they (the Ukrainians) will quickly return to their homes. On the other hand, there are Russians that do not want to be mobilized and drafted into the Russian Armed Forces. Most of these people are young Russian men who have relocated to many places around the world."
Late last year, Russian President Vladimir Putin implemented a large mobilization of civilians, drafting them into the ongoing invasion. As a result, many Russian men have traveled abroad to avoid the draft.
The Ukrainian Ambassador said the revocation of the VoA facility for the nationals of his country would represent an "unfriendly act" by Indonesia, saying he hoped the people of Indonesia would embrace Ukrainians as their friends. At the same time, the Ambassador supports all efforts by Indonesian authorities to take appropriate enforcement measures whenever a Ukrainian is found to be breaking the law.
Vasyl Hamianin was appointed Ambassador to Jakarta by Ukrainian President Volodymyr Zelenskyy on 30 July 2021, presenting his credentials to Indonesian President Joko Widodo on 25 October 2021.
Hamianin also serves as the Ukrainian Ambassador to ASEAN.
Married with two sons and a daughter, the Ambassador's daughter, Varvara Hamianin, joined the evacuation of Indonesians living in Ukraine following the Russian invasion of his country.
Related Articles
Ukrainian Protestors May Face Deportation
Ukrainians in Bali Protest Russian Invasion
Stay Informed on Bali Tourism-Related News: Subscribe to Bali Update