Wissam Barakah – the 45-year-old Syrian Yogi and life coach based in Ubud has been deported from Indonesia and banned from re-entering the country for two years. Online, the Syrian presents himself a life coach, Reiki Master, hypnotherapist, Yoga teacher, a neuro-linguistic programmer, a "Tapping Practitioner" using the EFT (Emotional Freedom Technique), and the founder of Taijitu House of Om in Dubai, UAE and Bali's Soul Journey Retreats. 
NusaBali reports that Barakah was formally placed on a plane by immigration officials on Friday, 03 July 2020, at Bali's Ngurah Rai International Airport.
The Syrian was deported under Section 75 Paragraph 1 of the Immigration Law No. 6 of 2011. That lawsays, "immigration officials have the authority to take administrative steps, including deportation against any foreigner living in Indonesia involved in dangerous activities that threaten public safety and order or that fail to pay respect or disobey rules and regulations."
Immigration officials say the Syrian was also guilty of violating Regulation Number 9 of 2020 from the Minister of Health governing physical distancing and limiting public activities and Bali's Governor Instruction Nomor 8551 of 2020 of the handling and prevention of the spread of COVID-19 by organizing a public gathering of more than 25 people.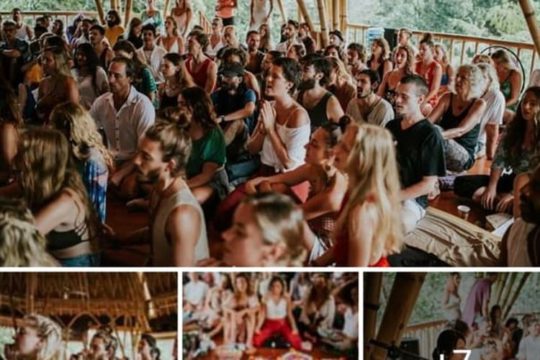 Wissam Barakah had been held at the Denpasar Immigration Detention Center (Rudemin) since 23 June 2020, awaiting flight arrangement that would allow him to leave Indonesia. He was escorted under guard from the Detention Center in Jimbaran to the nearby Ngurah Rai International Airport at 3:30 pm on Friday, 03 July 2020, where he boarded a Batik Air flight to Jakarta for transfer to a Malindo Air flight carrying him out of Indonesia.
Wissam Barakah, the founder and apparent investor in the House of Aum – a "Holistic School, Resort, and Retreat Center" on Jalan Raya Bona in Gianyar, was taken into custody by Immigration officials on Tuesday, 23 June 2020, shortly after apologizing to the Regent of Gianyar for his reckless and dangerous hosting of a crowded international gathering of at least 60 chanting devotees at the House of Aum five-days earlier on 18 June 2020.
The gathering on 18 June was held in flagrant violation of regulations banning mass gatherings and without advising the surrounding community beforehand. Widespread and angry criticism of the meeting surfaced on social media when photographs were published, showing the 60-plus participants sitting in very close proximity to each other and chanting without the benefit of face masks.
Wissam and @houseofom.balion Instagram initially denied the event took place, only to be shot down in flames when his disciples, who attended the event, began making selfie posts on Instagram. Wissam then decided to remove the deceitful posts and to apologize, calling the entire gathering "a big mistake." That post, too, was widely criticized online as being insincere and, after further consideration, was deleted and turned into an apology.
Related Articles
Bali Deports Spiritual Guru and Life Coach