A total of 522,141 foreign tourists visited Bali in August 2023, based on the Bali Center of Statistics (BPS-Bali) statistics.
This number represents a decline of 3.55% when compared to July 2023, when 541,353 foreign tourists came to Bali.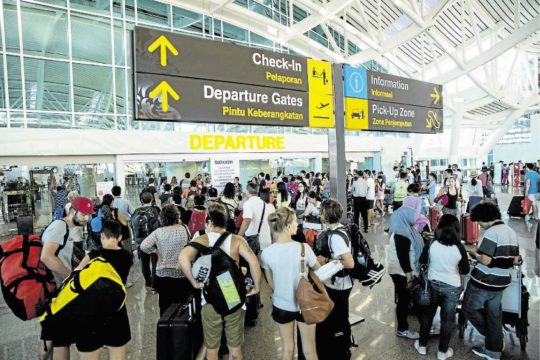 However, when viewed on a month-on-month basis against the previous year of 2022, August 2023, arrivals improved by 88.7%. Similarly, July 2023 arrivals increased 119.7% when compared to July 2022 foreign arrivals reached 246,594,
That arrivals decreased slightly in August 2023 as compared to July 2023 does not contradict the steady, significant month-to-month boom in arrivals now underway.
Most foreign tourists enter Bali by air, with sea arrivals representing a small but growing number of foreign tourist arrivals. No mechanism is in place that counts foreign tourist arrivals entering the island from the ferry ports of Gilimanuk and Padang Bai who have already cleared immigration at other Indonesian international gateways.
2023 foreign tourist arrivals to Bali support the view that Bali tourism is on a fast comeback trail. However, the currently strong arrivals totals are still less than those recorded in the pre-pandemic period of 2019. For January-August 2019, 4,869,517 foreign tourists came to Bali, while for the same 8-month period in 2023, the total was 3,418,907. This represents a decline for the January-August 2023 period of 29.8% as compared to the same eight months in pre-pandemic 2019.
Related Article
Indonesian Tourism Arrivals Booming
Strong Q1 for Bali International Arrivals
Australians Dominate Bali Tourist Arrivals
60,000 X Increase in 2022 Foreign Arrivals
Indonesia Sets Tourism Targets for 2023
Stay Informed on Bali Tourism-Related News: Subscribe to Bali Update