Erick Thohir, the Indonesian Minister in charge of State-Owned Enterprises (BUMN), is projecting that the Island of Bali will become an international center of digital industries and digital start-ups once the current global pandemic ends. Thohir says that Bali's mainstay of tourism needs accompanying industries that will help support and restore Bali's economic fortunes.
The growing circle supporting the BUMN Minister's idea has adopted the name and hashtag "#SiliconBali" to describe Bali's digital future. Any similarity to the term "Silicon Valley" and that area of California's role as the center of digital start-ups is purely intentional.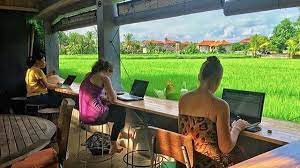 Erick Thohir appreciates all support for his desire to establish #SiliconBali, saying: "Bali is extraordinary. There's now a 'Silicon Bali.' There's nothing wrong with creating an alternative economic digital center in Bali."
The Minister's comments were made on Sunday, 19 September 2021, in a seminar on the "Bali Digitalpreneur Meeting" held on the Primakara Computer Technology Institute campus.
Thohir sees the digital development of Bali as "Silicon Bali" as a breakthrough on a par with his recently announced agreement to open an international cancer hospital in Bali in cooperation with the famous Mayo Clinic from the USA.
"I feel very good. There's nothing wrong with every region innovating. The hope for a digital economy and start-ups in Bali is very strong," said Thohir. He continued, saying that his Ministry supports investment in start-up companies as a means of transforming BUMN business entities. Adding, "We will greatly support start-ups with large investments."
As the Minister in charge of BUMN, Thohir says a key performance indicator of his Ministry is its investment in 50 start-up companies using funds reserved as venture capital.
Breaking down his Ministry's keen interest in start-up companies, Thohir counted off the number of start-ups now backed by major state-owned companies: "Telkomsel 15, BRI 15, Mandiri Capital 15, and I am also allowing BNI (Bank Negara Indonesia) to invest (in start-ups) – 5 would be enough."
Thohir said that Indonesian President Joko Widodo, in the second week of December 2021, would push BUMN to launch a major program for start-ups. "Following the launch, we will train 10,000 people to work in start-ups so (this initiative) can be sustained. We will invite 10 top investors," the BUMN Minister said.
Meanwhile, the chairman of STMIK Primakara, Made Artana, said that with the economic collapse of Bali's tourism industry, now is the time for Bali to embrace a digital economy and support start-up investments eagerly. Artana projects that digitally-based companies will continue to expand in the future.
The Minister believes Bali has unique potential and a natural attraction for hundreds of thousands of digital nomads. Bali typically has many direct flights from many international cities, a good physical infrastructure, a good quality of life, and a natural balance between natural beauty and a low cost of living.
The BUMN Minister and Artana believe Bali has many talented, creative workers fostered by its creative culture. Because of this, "Silicon Bali" is being promoted as a digital industry destination as part of an overall program to help Bali's economy recover.
To stimulate a digital industry in Bali, STMIK Primakara will host a Bali Startup Summit in November 2021 presented with the assistance of Bank Indonesia.
The Bali Start-Up Summit will be an exhibition held in conjunction with seminars and talk shows to pitch ideas and projects to potential investors. For the past seven years, STMIK Primakara has hosted similar start-up events in Bali.
Related Links
Bali as a Home for Digital Nomads
5-Year Visa for Digital Nomads Coming Soon!
Petition to Facilitate Digital Nomads
Bali: Where the Digital Nomads Roam?