The KMP Nusa Jaya Abadi RoRo Ferry operating between the Port of Padangbai in Bali and the Island of Nusa Penida still requires an annual subsidy from Bali's Klungkung Regency of between Rp. 1 – 2 billion to remain in operation.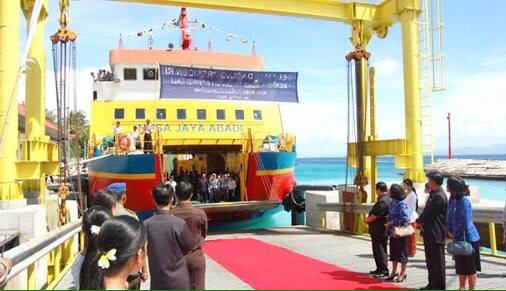 As quoted by RadarBali, the head of the transportation service for the Regency of Klungkung, Wayan Sudiarta, explains that the RoRo Ferry connecting Bali to Nusa Penida has never been focused on turning a profit. The critical shipping link plays a significant role in stabilizing prices of essential commodities for the people living on Nusa Penida and transporting materials and people from the mainland in Bali to the semi-remote island location.
Currently, the RoRo ferry generates an average monthly income of between Rp. 400 – Rp. 700 million, except when the vessel is removed from service for routine or emergency maintenance.
In 2020, the ship underwent emergency repairs on a damaged propeller in October 2020 and was removed from service for almost 2.5 months. The 2020 cost of operating the vessel amounted to Rp. 7.1 billion against an income of only around Rp. 5.2 billion.
Do the math, and the resulting shortfall is Rp. 1.9 billion.
For 2021, the projected operating budget for the KMP Nusa Jaya Abadi is Rp. 8 billion. For Q1 of 2021 (January-March), the ship has generated an average income of Rp. 400-500 million each month.
Related Article
Padang Bai Nusa Penida Ferry Resumes