The jubilant and joyous spirit of the yuletide holiday season was much in evidence during a highly innovative "Pop Up Dinner" held on Thursday, 23 December 2021, at the Sababay Winery in Gianyar, Bali.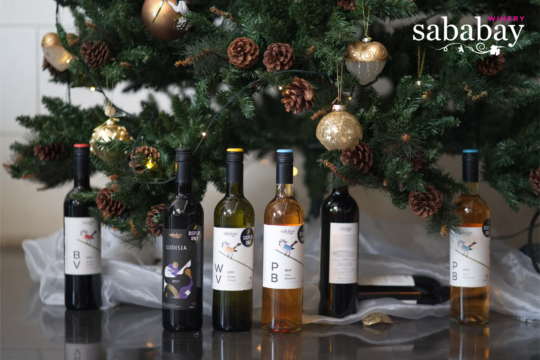 Months in the planning by a creative team comprised of Sababay Wines, Mozaic Restaurant in Ubud, and the event management team of Bali Discovery – Indonesia's most modern winery and distillery at Sababay was transformed into a magical setting for a pop-up dining experience.
Pioneered in Europe, "Pop Up Dining" is a provisional event designed to showcase culinary talents in a temporary location.
This "Pop Up" Event in Bali was set in the Sababay Winery with row after row of refrigerated stainless steel tanks fermenting thousands of gallons of wine as the background for what turned out to be one of Bali's parties of the year.
An elaborately decorated long table hosted more than 80 sophisticated diners for a sumptuous 5-course dinner prepared by celebrity chef Chris Salans and his talented culinary team from Ubud's Mozaic Restaurant.
Sababay prepared sparkling wines and cocktails for pre-dinner conviviality over canapes together with five paired wines served during the dinner that followed. A decadently delicious dessert made with base ingredients provided by Bali's POD Chocolates was paired with a sparking Sababay Lumbrusco 2018. Details of the entire menu and the wine list is available via this link.
Christmas lighting and seasonal decorations accented the long formal dining table glimmering with some 400 fine crystal wine glasses from Zwiesel Glas. Expert lighting effects dramatized the rows of fermentation vats that lead the eyes to a splendidly-lit towering Christmas tree at the head of the table.
Musical entertainment for the evening was non-stop, supplied by soloists and choristers from the Bali Community Choir directed by Brendan O'Donnell. The Choir's singing was varied and inspiring as a "flash mob" of singers infiltrated the cocktail reception to sing as they accompanied guests into the dining area. Along the way, the talented group of singers paused to sing a South African anthem in Zulu, moving some of the participants to join the Choir in a spirited hip-swaying African tribal dance. Later in the night, superbly talented soloists took turns appearing suspended on an overhead walkway, adding a musically soaring "angels heard on high" aspect to their voices while singing music for the holidays, Broadway, and operatic selections.
At Christmastime, "too much" is never enough for musical merriment. On Thursday, strolling singers and a violinist would suddenly appear. The penultimate close to the evening was a sensual pas de deux in an adagio style that paved the way for a grand finale of Handel's Hallelujah Chorus by the Choir that managed to shake the winery's rafters.
Satiated with outstanding food, enlivened with copious quantities of free-flowing Sababay Wine, and holiday hearts made glad with music and song, the only question from many as they left the winery was: "Where do we book for next year's Christmas Dinner?
Patience is a virtue. Watch this space for future announcements.
Related Articles and Links
Christmas Fine Dining in Sababay Winery
Sababay Wins Honors at SFWSC Competition
Saba Grappa – It's Actually 'De Vine'