The fire at TPA Suwung – Bali's largest rubbish dump started on 27 September 2023 and continues to rage three weeks later. The fire is prompting Denpasar Administration officials to consider desperate measures to extinguish the fire, creating a heavy smog hanging over large areas of south Denpasar.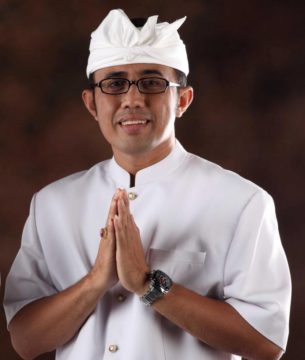 As reported by Truibun-Bali.com, Bali's Deputy Mayor, IGN Jaya Negara, appears to be losing faith in the efficacy of a large armada of fire trucks, a water canon, and helicopters with water bombs to fight the fire. Desperate for the fire to be controlled, Jaya Negara offers a free airline ticket to Singapore to anyone who can coax the rains to start falling in draught-starved Bali and help end the fire.
Jaya Negara's comments were made during a press conference held on Tuesday, 17 October 2023.
Jaya Negara is appealing to the metaphysical world of Bali's unseen dimension – known in Balinese as niskala – for an early end to the infernal and smoke disrupting daily life in the capital. The deputy mayor has declared to personally purchase a round-trip ticket to Singapore for anyone who can bring urgently needed rain to Bali.
"Anyone wearing traditional Balinese sarongs and headdress (kamben udeng) who can make it rain, I will buy them a ticket to Singapore," said Jaya Negara.
On Thursday, 19 October 2023, two days after making the offer of a free airline ticket to Singapore to anyone who can "precipitate precipitation," Jaya Negara walked back his comments, insisting he was only "joking."
Meanwhile, refugees from the residential areas surrounding the fire scene slowly began returning to their homes on Tuesday, 17 October 2023. Many of these people originate from areas outside Bali and derive a living by working as scavengers, eeking out a meager living while residing within the confines of the rubbish dump.
Based on guidance from Bali's Pro-tem Governor, these scavengers are now being relocated back to their hometowns outside Bali with financial assistance from the Province.
With the ongoing fire severely limiting the Island's ability to handle rubbish, the Governor is calling on the people of Bali to do everything in their power to reduce the amount of rubbish they produce.
Related Links
Bali Mayor Declares Fire Emergency
TPA Suwung Fire Not Affecting Bali Airport
TPST-Kertalanggu Bali: The Odor Lingers On
Stay Informed on Bali Tourism-Related News: Subscribe to Bali Update