The Bali International Film Festival – Balinale has concluded its 14th edition renewing its commitment to filmmakers and audiences.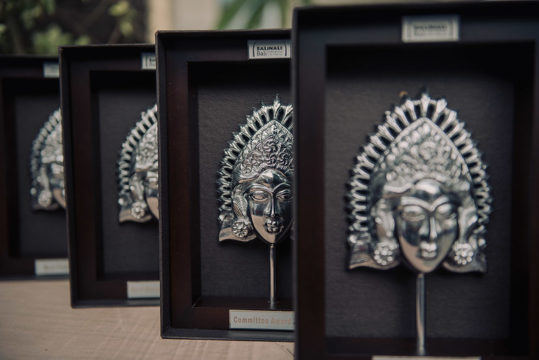 A celebration of filmmaking and cinema art, with films shown free of charge in Bali to capacity houses 11-14 November, brought back the magical theatrical experience to long-vacant cinemas emptied by the global pandemic. An extended online program that operated until 17 November presented a diverse selection of films. Forty-eight films from 26 countries were shown, including movies selected from the canceled 2020 festival.
Prizes were awarded in the following five categories:
Best Narrative Short: Anna, director Dekel Berenson
Best Narrative Feature: Supernova, director Bartosz Kruhlik
Best Documentary Feature: Newtopia, director Audun Amundsen
Special Jury Mention: Matahari Terbit di Hutan (Sunrise in the Forest), director Samuel Ruby
Best Documentary Short: Atordoado, Eu Permaneço Atento (Stunned, I Remain Alert), directors Henrique Amud, and Lucas H Rossi
Gary L Hayes Award for Emerging Indonesian Filmmaker: Ora Srawung, Mati Srawung (A Closed Mouth Catches No Flies), director Destian Rendra Pratama
During the Film Forum that forms a regular part of each Bali International Film Festival, Indonesian actor Ario Bayu, accompanied by the cast and crew of the Bali-based fantasy "Frangipani Rising," told participants that the return of audiences to theaters to experience film is essential in order to once again enjoy the communal experience of film and experience a production in the way it was intended to be seen and appreciated.
Also returning to this year's Balinale was celebrated Indonesian director and cultural ambassador Garin Nugroho. Garin received this year's Bali Taksu Award for his contributions in inspiring creativity.
"Garin exists amongst that rare group of artists that have truly shaped their country's cultural direction. He has also given time and support to the Bali International Film Festival, inspiring countless aspiring filmmakers while continuing to create new projects," said Deborah Gabinetti, Festival Founder.
An essential part of the Festival is the Bali Film Forum, a popular industry-only gathering to support the country's film development. As in years past, this event drew many filmmakers and leaders of production. Arie Dagienkz and Iwan Setyabudiman presented the Forum under the theme of "blockchain technology and its applications to the film industry." Among those attending the Forum were Lasja F Susatyo, Richard Oh, Nia Dinata, Putrama Tuta, Anggi Frisca, Benny Kadarhariarto, Titien Wattimena, and Melissa Karim.
Among the rising and prominent stars of Indonesian cinema traveling to Bali were directors Destian Rendra and Samuel Ruby, actresses Lintang Pandu, Sheila Miranda Bell, and writer Imarotul Izzah.
Students from the Raden Umar Said Technical High School (SMK RSU) in Kudus, Central Java, joined its CEO, Roy, to share their impressive animation work, Sabda Alam.
Adopting a hybrid format in response to the global pandemic, this year's Festival included both in-person screenings at Park 23 Creative Hub in Tuban, Bali, together with virtual digital offerings shown 11-17 November 2021.
Over the past year, Bali International Film Festival became part of a professional organization committed to furthering the inter-connection of the world through film. As part of this cooperation, The AICEF Prize for Cross-Cultural Filmmaking is awarded to a pair of first or second-time filmmakers whose works robustly embrace cross-cultural themes. The inaugural Indonesian recipient of the Prize was Harvan Agustriansyah for the film Empu (Sugar on the Weaver's Chair). Harvan attended the Bali International Film Festival to present his award-winning film.
The week before the Bali International Film Festival and as part of the Festival's international partnerships in film, the Asian Film Awards Academy (AFA) presented outstanding award-winning Hong Kong films in Jakarta. The AFA Academy was formed in 2013 by Busan, Hong Kong, and Tokyo Film Festivals to highlight the Asian film industry and culture.
Festival guests from across the Indonesian archipelago were flown to Bali by Balinale's Official Airline Partner – Citilink.
In 2022, the Bali International Film Festivals will move to May, providing a needed boost in the year's first half as the national film industry springs back into life.
The 15th edition will take place from 26-29 May 2022.
Call for submissions to the 15th edition will open in December.
For more information on the Festival and its programs, visit www.balinale.com or Email
Related Articles and Links
Balinale Enters Film in AICEF Competition