A much-loved and trusted German friend has returned to Kuta, Bali, with Mama's German Restaurant reopening on Jalan Raya Legian.
Mama's lights are back on, as its bar stools and tables fill with smiling faces of people delighted to be back in Bali at their favorite German Pub.
Located in the Lawalon Complex on the western side of Jalan Raya Legian, Mama's German Restaurant casts a welcoming countenance as Kuta springs back into life after an extended coronavirus hiatus. Hard to miss, Mama's is hard to miss by virtue of a large, lit sign with a large mug of draught beer that shines its light over a magnificent life-sized fiberglass Balinese cow eclectically painted by a group of leading Balinese artists.

Equally inviting is the conviviality underway at Mama's circular bar and emanating from the clusters al fresco tables positioned to sample Kuta's increasingly bustling sidewalk society
During a recent visit, both the bar and tables were doing a brisk business, underlining the robust beat of the reopening of shops and other businesses along Kuta's High Street.
First opened in 1985, Mama's German Restaurant is a Kuta landmark. Closed for two years in March 2020 until April 2022 during the pandemic lockdown, the popular bar and restaurant are now open every day from 9:00 am until 11:00 pm, with plans to resume 24-hour operations once late-night business picks up in Bali's busy nightlife and entertainment corridor.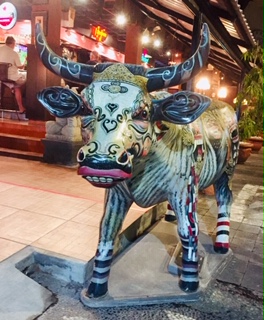 Mama's famous breakfast menu is available all day long during the initial reopening period, combined with an extensive German and international cuisine selection.
Pork Knuckle
A legendary Mama's German Restaurant signature dish enjoyed for more than three decades is their succulent pork knuckle, indistinguishable from the Schweinshaxen found in the best Bierhallen of Munich. Made from 1.2 kilograms of imported ham hock, these meaty joints are generous and sufficient to be shared by two or more diners. Slow-cooked to mouth-watering perfection over two days, each knuckle is finished with a final hour of crackling in the oven. The kitchen team will then debone the knuckle at your table-side. The meat can then be lathered with spicy German mustard, a healthy helping of Mama's homemade sauerkraut, and mugs of icy-cold domestic or imported beer.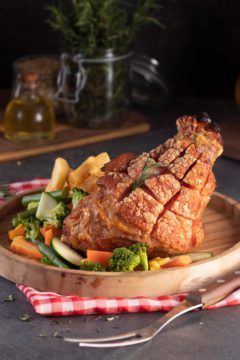 Some of the other tempting favorites from Mama's menu are their slow-roasted pork spare ribs and crispy rotisserie chicken.
Owned and operated by the people at PT Soejasch Bali – Indonesia's leading producer and importer of quality meats and sausages, there's no better place to enjoy a dazzling array of quality sausages than Mama's German Restaurant.
Whether dining Deutsch or not, there's bound to be something to your liking on Mama's German Restaurant's extensive menu, including hamburgers, pizzas, soups, and salads. Accordingly, Mama's has long been a favorite haunt for Indonesians, Australians, Germans, and any other visitor or Island resident searching for good food and friendship.
With the reopening of Mama's in Kuta, their Stammtisch gatherings have also been reconvened. This traditional roundtable of conviviality finds German, Indonesian, and English heard at a round table where newcomers quickly become regulars and friends over the course of a single visit.
Among those on hand to extend a hearty welcome at Mama's German Restaurant are its restaurant manager Riri Fakhriyadi and his hard-working team of some 20 staff. This includes Wayan Dana, who's been serving at Mama's with a smile since 1992, and Ibu Swami – a member of the kitchen brigade, on duty since the original opening in 1985. Despite closing for two months, Mama's workers remained actively employed throughout the lockdown, working at affiliate companies operated by the PT Soejasch Group.
Who's Mama? We'd be remiss if we failed to mention Ibu Endang Suciati, the wife of PT Soejasch's founder, Reinhold Jantzen. It was, in fact, "Ibu" or "Mama Endang" who founded Mama's German Restaurant in 1985 at a critical time while the seminal PT Soejasch was gaining a foothold on the path to becoming a major Indonesian enterprise. Reinhold, who just turned 82, and Endang are often found at Mama's, sharing a table with old and new friends and trading stories from their four decades of Indonesian adventure. Given the opportunity, Reinhold and Endang will happily share pictures of their much-loved family of a daughter, sons, grandchildren, and loyal workers also considered treasured members of their extended family.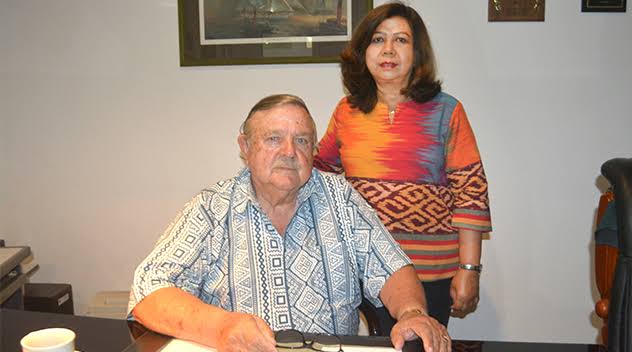 The lights are back on at Mama's German Restaurant in Kuta, the ovens are fired up, and there are copious quantities of cold beer on tap – all leading the way as Bali revives after two years of enforced hibernation.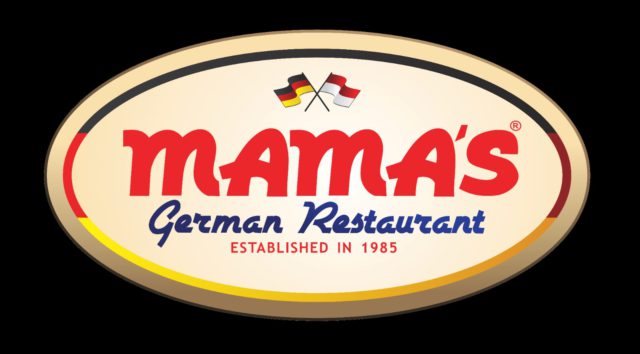 Mama's German Restaurant
Komplek Lawalon, Jl. Raya Legian – Kuta,
Telephone: +62-(0361) 761151
Mama's German Restaurant Website
Mama's German Restaurant on Instagram
Mama's German Restaurant on Facebook
Related Articles
Reinhold Jantzen's 82nd Birthday in Bali
Generational Duty to The German Republic
Berlin's Man in Bali Given a Cross of Merit
Don't Bypass Das Bistro on the ByPass