The continuing incarceration of JRX – I Gede Ari Astina (43) on allegations of hate speech and defamation committed against the Indonesian Medical Association (IDI) in connection with his criticism of requirements for Rapid Testing of pregnant women, continues to raise widespread protests on social media and via banners (baliho) hung on roadsides around Bali.
The Balihos call for JRX's release from police custody while expressing solidarity for the outspoken rock star who is the drummer for popular musical group Superman is Dead (SID).
Radar Bali reports that on Thursday, 20 August 2020, balihos in support of JRX were seen in Kintamani, Jembrana, Tabanan, and Buahan.
The crux of JRX's criticism is his view that mandatory Rapid Testing is harmful to pregnant women and their unborn children. Because of IDI's active support of Rapid Testing, JRX accused the IDI of being "lackeys" of The World Health Organization (WHO).
IDI retaliated by filing a criminal defamation complaint against JRX with the Bali Police.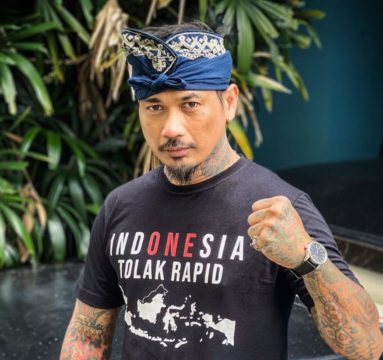 In the Village of Katung, Kintamani, a group calling itself "Katung Youth Brave to Speak" (Pemuda Desa Katung Berani Bersuara), had installed a baliho measuring 3×4 meters calling for JRX's release. I Gede Bobix Indra Mahendra in Katung, who coordinated the installation of the banner, told RadarBali, "JRX is a good person speaking the truth. He should not be imprisoned."
In Melaya, Jembrana on Jalan Jayak Sakti, a group called Brandal Bali Barat, also erected banners that measured 3×2 meters. The coordinator of the group, I Putu Agus Arta Yasa, defended his group's use of the banner to demand that the public's aspirations should be silenced or sacrificed in Indonesia. Agus also proclaimed JRX as the voice of the poor and middle class and demanded his release from jail.
On Jalan Yos Sudarso in Tabanan at Distro Brandall, a banner measuring 2×1 meter expressed support for JRX. The Tabanan banner, coordinated by I Gede Made Raka Aryawan, expressed solidarity for the rock drummer. Aryawan said he hoped JRX would remain strong and follow the legal process to quickly released from jail.
SEPAKAT (Solidarity of the Youth of Pikat) put up a banner supporting JRX in the Village of Pikat. A member of SEPAKAT, I Wayan Alit Widiarta, said the banner was a form of support for the rock musician who is being tried under the Law on Information and Electronic Transactions (UU ITE). Alit said: "We demand justice for JRX. He voices the aspirations of the poor. He should not be jailed. Some other means and methods can be taken if it is felt he has defamed someone's good name."
Finally, in the Village of Buahan, a group call the Punk Community of Buahan displayed its banner measuring 2×3 meters expressing solidarity with the imprisoned punk rock star. I Kadek Dwi Pramana Putra said his group seeks the release of JRX so that he is free to battle on behalf of the poor.
Related Articles
Bali Musician Charged with Hate Speech
Governor Reminds Dissenters to Shape Up