As reported recently on balidiscovery.com in Vets Attend Sacred White Monkey in S. Bali, volunteer veterinarians from Udayana University rushed on 06 February 2022 to the Village of Pecatu, South Kuta, to perform emergency surgery on a rare, wild white monkey that suffered 35 separate wounds in skirmishes with warring troops of monkeys in the area of Puri Selonding.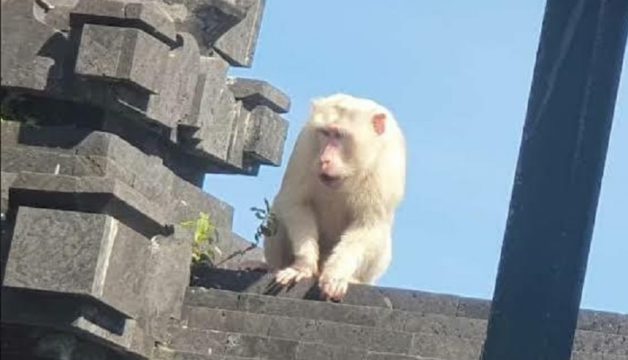 The surgery completed, the "sacred" white monkey was confined to a cage at the temple to recover from the surgery.
Doctors who have been monitoring the primate's condition told NusaBali.com that a week after the surgery, the animal is in a stable condition and is improving daily. Doctors want to keep the animal under observation longer before releasing it to its home troop of monkeys.
The traditional chief (Bendesa) of the Pecatu Village, I Made Sumerta, said that the monkey's condition had improved since the 06 February 2022 surgery. Visiting the monkey daily, Sumerta noted on 11 February 2022 that the monkey moves freely within its cage and has a strong appetite for food, both of which he saw as signs of reasonably good health. Adding: "Generally (the monkey) is stable, but not completely healthy. For this reason, it remains under continued observation. We will quickly release the monkey when the wounds are completely healed and dry. There is concern that if the monkey is released now, it might be attacked again by other monkeys."
The white monkey (Wenara Pertak) suffered its injuries in clashes between seven separate troops of monkeys that inhabit the area surrounding the Village of Pecatu.
Many people in the Pecatu area considered the rare white monkey as sacred, foreboding disaster for the village should the primate suffer injury or death.
Related Articles
Vets Attend Sacred White Monkey in S. Bali
Good Omen? White Monkey Seen in S. Bali.