RadarBali.com reports that hundreds of The Hotel Grand Bali Beach employees are protesting their unilateral termination of employment by the hotel's management – Hotel Indonesian Natour (HIN). In total, 380 employees of the hotel were fired and protested at the home of a member of the National House of Representatives (DPR-RI), I Nyoman Parta, on Monday, 25 July 2022.  
Parta confirmed that the 380 hotel employees came to his home to deliver their protest. He said the disgruntled employees were protesting because of a sudden summons from the management of HIN for a meeting on Monday, 25 July 2022.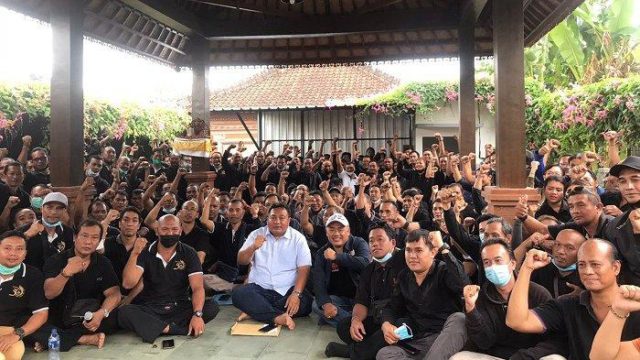 Continuing, Parta said: "Why are they surprised and refusing the unilateral termination of their employment? This is because two months earlier, on 25 April 2022, to be exact, there was a joint decision between the hotel workers and the directors of PT Hotel Indonesia Natour (HIN) (Nomor: 0012/KD/DH/HIN/VI/2022). That decision covered the decision to send the Grand Inna Bali Beach workers home. This an order to remain home, not a termination order (PHK)."
Parta explained that the original decision to send the workers home contained two points of agreement. First, the workers would receive their basic pay (Gaji Pokok) paid each month from the date of their assignment to stay home until the revitalization of the hotel is completed and the workers can work again. Second, all the current workers would be allowed to resume their employment without undergoing a recruitment process.
Parta complained: "This agreement was in effect for two months, but suddenly, yesterday morning, the hotel's management gathered all the workers and distributed letters of termination. The workers are refusing this termination." 
Parta promised to defend the hotel workers' legal rights, insisting that such arbitrary treatment of workers is not allowed in Bali. He underlined that the poor treatment of the workers is made worse by the fact that the hotel is a State-owned company (BUMN).
Related Articles
Sanur Beach: A Special Economic Zone
Bali Cancer to Open with Famed Mayo Clinic
Four Seasons Bali: Cancer Care Massage
Bank Indonesia View on Tourism in Bali
Editorial: A Rethink on Bali's Recovery