The Indonesian Director General of Immigration has begun installing 90 auto gates for speedy processing of passengers arriving at Bali's Ngurah Rai International Airport using electronic visa-on-arrival (e-VOA).
Of the 90 auto gates being installed at Bali's Airport, 60 units will be placed in the international arrival hall, while the remaining 30 units will be designated for the international departure area.
As reported by the State News Agency Antara and NusaBali.com, Suhendra, the chief of immigration at Bali's Airport, said the 30 auto gates for the international departure terminal will be installed before 26 December 2023 and the remaining designated for the international arrival terminal will be in place in early 2024. "We apologize to passengers for any inconvenience caused during the installation process for the new auto gates," said Suhendra.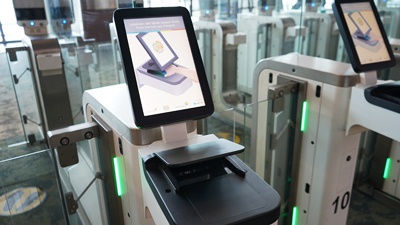 During the installation process for the new auto gates, Suhendra promised that smooth and rapid handling of international travelers would not be disturbed as all manual immigration lockers would be fully staffed.
Speaking separately, the general manager of Bali's Airport Authority, PT Angkasa Pura I, Handy Heryudhitawan, expressed his appreciation for the installation of the auto gates that will expedite passenger movements through Bali's Airport. He also assured that during the installation period, all "regular" immigration counters will be staffed to keep passengers moving smoothly.
Data provided by Angkasa Pura I, state the number of domestic and international passengers handled through Bali's Airport during the first nine months of 2023 totaled 15.8 million – a figure equivalent to 89% of all passengers handled during the same period in pre-COVID 2019. Of the 15.8 million tourists who passed through Bali's airport in the first nine months of 2023, 8.5 million, or 54%, were international passengers, and 7.2 million, or 46%, were domestic travelers.
On the average, 58,000 passengers pass through Bali's airport each day. This represents an increase over the 30,000 average daily passengers recorded during the same period in 2022.
Bali's Ngurah Rai Airport now serves 30 international routes flown by 36 airlines and 19 domestic air routes flown by 13 carriers.
Related Articles
Bali Arrivals Yet to Regain 2019 Levels
Indonesian Tourism Arrivals Booming
Strong Q1 for Bali International Arrivals 
Australians Dominate Bali Tourist Arrivals
60,000 X Increase in 2022 Foreign Arrivals
Indonesia Sets Tourism Targets for 2023
Stay Informed on Bali Tourism-Related News: Subscribe to Bali Update