NusaBali.com reports that the Badung Regency Enforcement Agency (Satpol PP) has demolished small cafes, warungs, and other small businesses along Berawa Beach, North Kuta. 
The demolition got underway on Wednesday, 18 May 2022, after the building owners failed to keep their promise with the Village of Tibubeneng to remove the structures standing on public rights of way.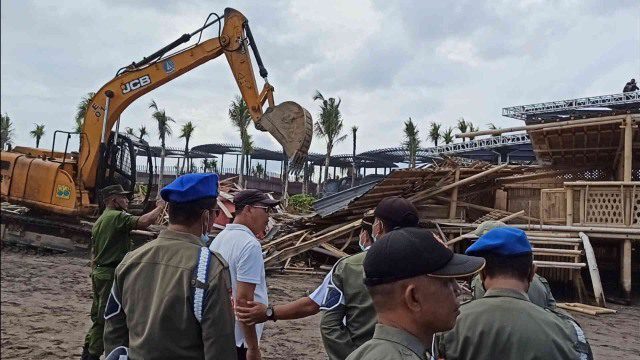 The Chief of Badung Satpol PP, I Gusti Agung Ketut Suryanegara, said that the demolishment of the businesses is part of the effort to enforce zoning rules and building codes on the tourism destination of Berawa Beach. The businesses were standing too close to the shoreline on public lands. Regency officials view the demolished businesses as representing an eyesore that detracts from the Island's tourism image.
"In total, there are 24 semi-permanent warungs demolished. A remaining six warungs are mobile and are being cleared away by their owners," said Suryanegara.
Suryanegara explained the actual demolition was preceded by a meeting with the traders at which an agreement was reached to demolish the illegal businesses. In the end, some of the companies failed to demolish their buildings, prompting the Satpol PP to knock down the buildings.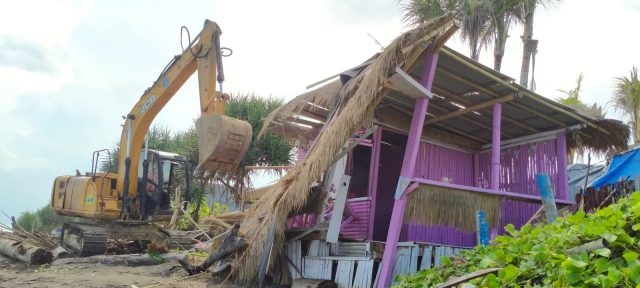 "We met with the traders on the beach and agreed to demolish the buildings by 15 May 2022. However, some structures have not been taken down. So we have undertaken the clearance. We are worried that if the buildings are left as they are, they will eventually reopen as a business," said Suryanegara.
The businesses being demolished do not have formal operating permits and licenses.
The SatPol Enforcement Agency says other beach areas in Bali are targeted for clean-up and attention, seeking to keep the right-of-way free of buildings and business activities.
Related Article
Balinese Reclaim Their Land, Beach by Beach
Legal Scrutiny of Karma Kandara Restaurant
Karma Kandara Beach Club Destroyed by Fire