Korean Air – the flag carrier of South Korea, recommenced direct service connecting Incheon and Denpasar when KAL 629, carrying 265 passengers, landed at Bali's Ngurah Rai Airport on Thursday, 14 July 2022, at 11:30 pm.
The Korean Air Airbus 333 aircraft received a water cannon salute as it traveled the taxiway towards the arrival terminal. Despite the late hour, Bali Governor Wayan Koster, the general manager of the Bali airport Handy Heryudhitiawan, and the head of the Bali Provincial Tourism Service Tjok Bagus Pemayun, were on hand to welcome the passengers traveling from South Korea.
The same aircraft departed on the return flight to Incheon at 1:10 am with 113 passengers on board.
The Korean Air flight marked the first installment of what is now a daily service to and from Bali.
Quoted by Beritabali.com, the general manager of the Bali Airport, Handy Heryudhitiawan, welcomed the new flight, saying: "In 2019, Bali's Ngurah Rai Airport served 397,196 passengers destined to Incheon, South Korea, using Korea Air and Garuda Indonesia. We hope that direct flights between Denpasar and Incheon resumption will herald more flights connecting the two countries."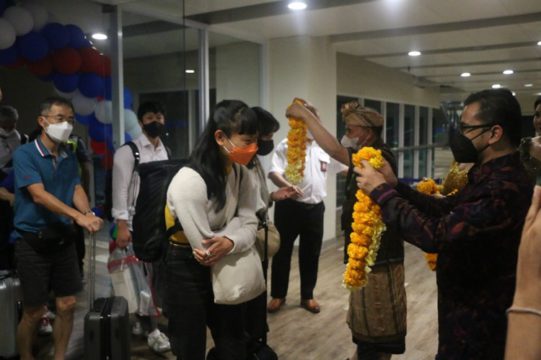 With the operation of the Korean Air flight from Incheon, Bali's Airport is now connected globally by 20 international routes to 12 countries flown by 22 airlines.
International passenger numbers continue to grow. With the arrival of the Korea Air flight on 14 July 2022, Bali has served 224,679 international passengers to date during July at an average of 16,000 daily passengers.
Handy said he is optimistic that Bali will achieve a targeted 9 million international tourist arrivals for 2022.
Related Articles
Bali Among Busiest Airports in June 2022
Aviation Focus: Bali Business Lunch 21 July