A late afternoon brush fire on the cliff face overlooking iconic Kelingking Beach on Nusa Penida, Bali, temporarily trapped a group of 25 tourists, preventing the groups' ascent back to the top of the panoramic ridge.
As reported by detik.com, the brush fire began on Sunday, 30 July 2023, at approximately 4:30 p.m..
The fire, of uncertain origin, quickly spread, fanned by strong off-shore winds. The fire consumed nearly two hectares of land, including the steep staircase that provides visitors access to the beach.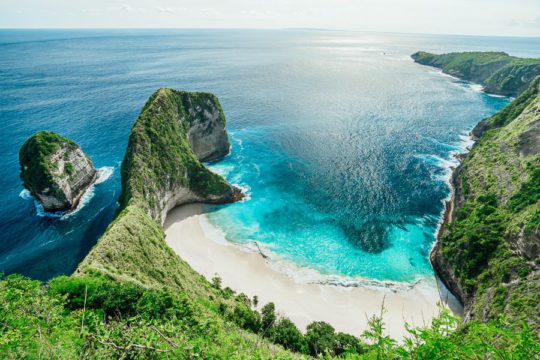 The head of the Nusa Penida Police Precinct, Police Commissioner Ida Bagus Putra Sumerta, described the dilemma presented by the involvement of the pedestrian staircase in the brush fire, saying: "The (fire) resulted in tourists on the beach being stranded, unable to reascend the cliff ."
One fire truck responded to the scene one hour after the start of the fire, trying to extinguish the fire from the cliff top.
Because of the group of tourists trapped on the beach, police, military personnel, and residents gathered there.
The fire was finally controlled, allowing the 25 tourists to ascend back to the top of the cliff after dark, assisted in the climb by police. The fire truck provided Water to put out the fire together with a water reservoir managed by the Public Water Department of Klungkung (PDAM-Klungkung).
Among the 25 tourists, a French citizen, Zacharie, suffered a minor injury to his head caused by a falling rock.
While the cause of remains unknown, local officials believe a discarded cigarette may have triggered the blaze.
Kelingking Beach on Nusa Penida was named in TripAdvisor's 2023 List of 25 top beaches.
Related Article
Nusa Penida Among the World's Best Beaches
Bali Voted Best Destination by TripAdvisor
Man Falls to His Death at Nusa Penida
Stay Informed on Bali Tourism-Related News: Subscribe to Bali Update