Local traders in the Badung Market in Downtown Denpasar, Bali, have learned to tolerate and take in stride the occasional angry and demanding customer.
However, customer care took on a new and challenging aspect on Thursday, 24 March 2022, when a wild large, and highly agitated male macaque monkey wandered into the center of the busy city market and briefly took control of baskets of fruit owned by local traders.
Videos of the monkey on social media showed how the large primate managed to terrorize traders and shoppers, menacingly baring its teeth and screaming when traders tried to "shoo" him away. Online comments from people who viewed the video of the angry monkey speculated that the animal had become separated from his troop and came to the market in search of food.
The video showed the monkey ripping apart plastic bags in fruit baskets. When traders tried to chase the monkey away, the animal angrily bared its teeth, preventing anyone from coming near.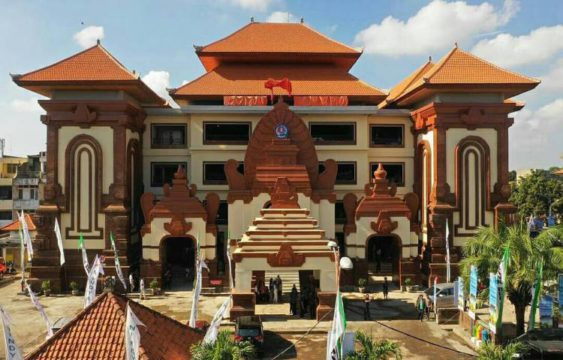 Anak Agung Ngurah Bawa Nendra, the head of the Denpasar Enforcement Agency (Kasat Pol PP – Denpasar), told RadarBali.com that his office had received no report regarding the monkey.
It's unclear what has become of the monkey or if it has been captured and removed from the busy central market and returned to a nearby jungle area.
Related Articles
Update: Recovery of Injured White Monkey
Vets Attend Sacred White Monkey in S. Bali
Good Omen? White Monkey Seen in S. Bali.