The strict application of restrictions on public movements in Bali has yielded positive results, with a marked decrease in new infections and fatalities linked to the coronavirus. A check on the data gathered by the Bali Task Force Against COVID-19 on Friday, 01 October 2021, records weekly improvements on all fronts in the Island's battle against the deadly virus.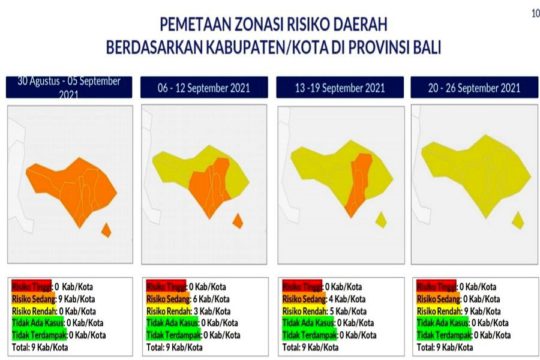 The Task Force reports in all regions in the Province of Bali, the risk category has improved to rankings in the low-risk category of "yellow." Bali's nine regencies and capital city are all in the yellow "low risk" category. Just one week before, the Task Force ranked all four of those regions in the"orange" category for moderate risk.
The latest evaluation by the COVID-19 Task Force shows that risk ratings for Denpasar, Gianyar, Bangli, and Badung are finally at a "yellow" low-risk level. Five regions have remained unchanged over the past week. Remaining in the "yellow category" were: Jembrana, Karangasem, Buleleng, Klungkung and Tabanan.
Made Rentin, the Secretary of Bali's COVID-19 Task Force, quoted by BaliPost.com, said on Friday, 01 October 2021, "Thank God, all zones are now yellow of low risk."
Rentin reports that, on the whole, the handling of COVID-19 in Bali continues to improve. This improvement is based on the number of new cases reported that are now on the decline. The number of fatalities and those hospitalized for the treatment of the virus is also on the decline.
In the last week of September 2021, the number of positive new cases of COVID-19 declined 16,5%. During the same period, the number of deaths decreased by 25%. Most fatalities (89.48%) occur among patients above the age of 46.
In the last week, the highest number of new COVID-19 cases (51.45% of all new cases) emanated from the City of Denpasar and Badung Regency. The three regions with the highest death count (54.31 of all deaths) over the same week were Denpasar, Badung, and Tabanan,
As of 30 September 2021, Rentin said 1,230 active cases remained under medical treatment. This number breaks down further with 355 (28.86%) under hospital care, 649 (52.76%) in centralized care, and 226 (18.38%) in self-isolation (Isolasi Mandiri).
Rentin said Bali has successfully vaccinated 3,329,370 individuals (97.78% of the total population) with a single dosage, while 2,660,776 individuals (78.14%) have been fully immunized with two injections of the vaccine.
Related Articles
COVID-19 Numbers to Make Bali Smile
Indonesians Learning to Live with COVID