In cooperation with Gourmet Garage in Jimbaran, Bali, Lotus Food Service is sponsoring a one-day Red Cross Blood Drive on Friday, 18 March 2022, from 9:00 am until 12:00 noon.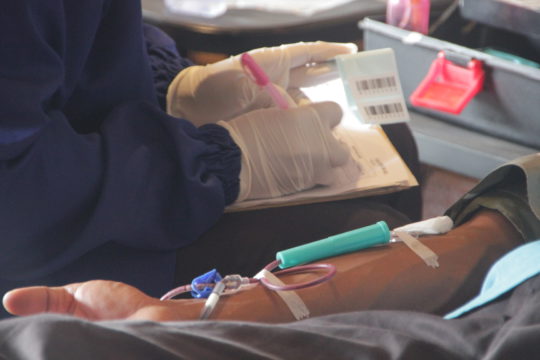 The event will take place on the 2nd Floor of the Gourmet Garage in their Jimbaran hospitality and training center.
This event follows the successful hosting of a similar blood drive in December 2021. Dubbed "Blood Donation 2.0," the 18 March Donation Drive is part of a continuing series of similar events intended to address a severe blood shortage at the Bali Blood Bank.
The Blood Drive will be conducted by the experienced team of medical personnel from the Indonesian Red Cross-Badung (PMI).
The inaugural Blood Drive held in December saw 30 donors participate, comprised of Lotus Food Services employees and guests.
A free breakfast will be provided to all blood donors at Gourmet Garage. Generous support from Greenfields, Yummy, Sunpride, and AIM Biscuits will allow all donors to refresh with free-flow milk, infused water, bananas, mung beans, yogurt, cookies, and Gabin Snacks
Members of the public are encouraged to join the 18 March Blood drive by registering in advance by sending a WhatsApp message to Lotus Food Services at +62 811 3800 4785.
Blood Donation 2.0
Conducted by the Indonesian Red Cross – PMI
Friday, 18 March 2022 – 9:00 am until 12:00 noon
Gourmet Garage – 2nd Floor
Jalan Bypass Ngurah Rai No 18
Jimbaran, Bali
For Reservations and More Information; Whats App +62 (0)81138004785