MV Dolphino Queen – a small boat used for diving and snorkeling excursions at Nusa Penida Island in Bali was destroyed by a sudden fire at Banjar Myuh Port on Friday, 04 August 2023.
The fire, which started at around 10:45 a.m., occurred as the boat's Captain, I Made Jana (35), also known as "Ancruk," was preparing the MV Dolphino Queen for a snorkeling trip.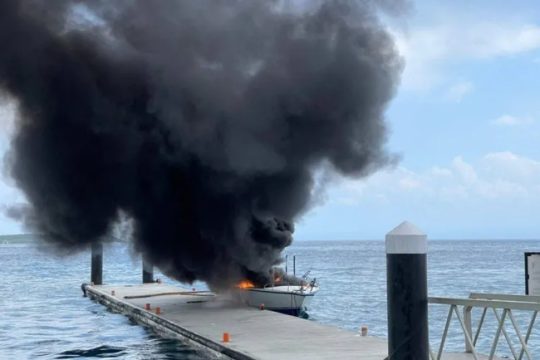 In what police investigators suspect was a fire caused by a short-circuit, a flash blaze and fiery explosion quickly consumed the boat when the engines were started. Captain Jana suffered severe burns to his face and both arms. Doctors at the Gema Santhi Hospital in Nusa Penida determined that the ship's Captain had sustained burns to 40% of his body. It was decided that the man should be sent to Prof. dr. I.G.N.G. Ngoerah General Hospital on the mainland at Denpasar.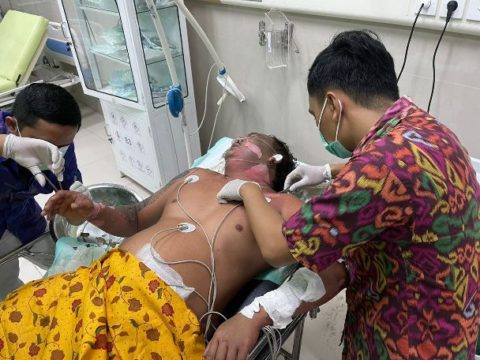 Kompas.com reports the loud explosion and billowing smoke served to summon locals to convene on the dock where the boat was on fire to assist in trying to extinguish the blaze. The snorkeling boat, powered by two 100-horsepower outboard engines and filled with snorkeling gear, was consumed by fire.
The total value of the loss of the boat has been estimated at Rp. 650 million.
Related Links
Nusa Penida Beach Fire Strands 25 Tourists
Nusa Penida Among the World's Best Beaches
Bali Voted Best Destination by TripAdvisor
Man Falls to His Death at Nusa Penida
Stay Informed on Bali Tourism-Related News: Subscribe to Bali Update