RadarBali.id reports that drought conditions in Bali are impacting the availability of fresh water processed and distributed by Denpasar's Water Utility (PDAM).
The freshwater supply of the Permuda Municipal Water Board (Perumda Air Minum Tirta Sewakadarma) in Denpasar has been reduced by 15%. The water deficit was confirmed by the Technical Director of the Provincially-owned Water board, Putu Yasa, on Monday, 23 October 2023.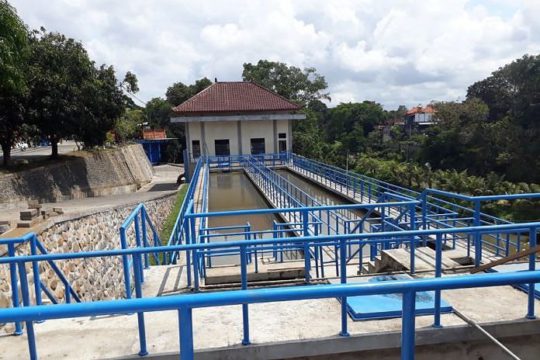 Permuda is optimizing measures to ensure water supplies are not interrupted during the continuing drought. Among the measures being taken by the water company is the creation of new water channels to help store water supplies. Yasa said: "By making the new water channels, production will remain at 1,200 liters per second."
In 2015, during a Bali-wide drought, when water deficits ran at 30%, water channels allowed the periodic downstream water capture when rains fell in upstream areas. In this way, water production was maintained at 1,200 liters per second.
The Bali Meteorology, Climate, and Geophysics Agency (BMKG-Bali) forecast the dry season will end and rains begin to fall in mid-November.
Putu Yasa recommends that the public conserve and store water until the annual rains return.
Related Articles
Expect Drought conditions Through November
Prolonged Drought Forecast for RI in 2023 
14-Day Rain Emergency Declared in Bali 
Bali Mayor Declares Fire Emergency
TPA Suwung Fire Not Affecting Bali Airport 
Bali Reservoirs Operating at a Deficit 
Stay Informed on Bali Tourism-Related News: Subscribe to Bali Update