Despite a record-breaking soaring in COVID-19 Omicron cases, Bali restarted international flights on Friday, 04 February 2022, with the arrival of a Garuda Flight from Narita carrying a meager load of 12 Japanese passengers. Singapore Airlines will soon follow suit, recommencing daily flights to Bali on 16 February. There are also reports that Batik Air has made a formal request to operate international flights to Bali.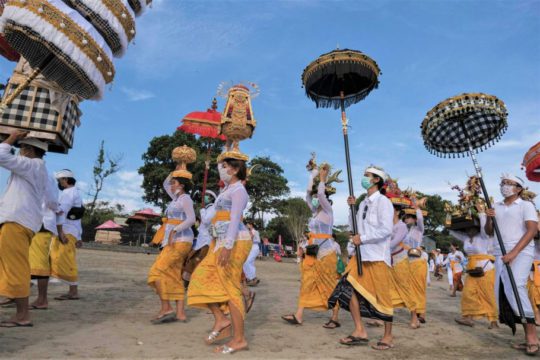 As reported by Kompas.com, the Minister of Tourism and the Creative Economy, Sandiaga Salahuddin Uno, has assessed that Bali is ready to welcome international travelers.
Bali has issued "Indonesia Care" certification to 2,212 companies on the Island, thereby ensuring Cleanliness, Health, Safety, and Environmental Sustainability (CHSE) protocols are in place and strictly applied.
In a formal release to the press, Sandiaga commented, "It's been two years that Bali – the backbone of National Tourism, has experienced significant contractions in economic growth." Continuing, the Minister said: "Even though vaccination (rates) in Bali are very good, the application of health protocols must remain firm and disciplined. Please increase the public's awareness and caution in all their activities and increase the use of the PeduliLindungi Application."
The Minister is hopeful that the reopening of international flights landing in Bali will provide the momentum needed to revive the economy and create more employment opportunities.
Data from the National Bureau of Statistics (BPS) state that the pandemic precipitated the Balinese economy contraction Q1-Q3 2021. IN 2019, estimated foreign exchange generated by tourism in Bali hit US$5.59 billion, an amount equivalent to 28.8% of total foreign exchange earning in Indonesia of US$19.35 billion
The Tourism Minister said the long-awaited reopening of international flights to Bali was signaled with landing a Garuda Indonesia flight from Tokyo on 03 February 2022. "The opening of international flights to Bali represents one effort by the government to bring success to international events to be hosted in Bali and other cities, such as the G20 Summit, MotoGP, and the ASEAN Summit 2023," said Sandiaga.
Earlier, the Coordinating Minister for Maritime Affairs and Investment, who also serves as the COID-19 Czar, Luhut Binsar Pandjaitan, reminded that all the international tourists coming to Bali must undergo the five-day quarantine following the current instructions issued by the Minister of Home Affairs. "I hope that these efforts will prove a great help to the people's economy of Bali and help it revive. I also ask that all parties truly follow all health protocols established by the COVID-19 Task Force.
Related Links
Garuda Flight from Tokyo Lands in Bali
Update: Travel Requirements for Bali
Bali Reopens. Quarantine Now 5 Days.
SIA Resumes Daily Bali Flights on 16 Feb.