The Ministry of Transportation has announced that the maximum permitted capacity on commercial aircraft will gradually return over time to 100%.
As reported by NusaBali, the Director-General of Civil Aviation, Novie Riyanto, explained to the press on Thursday, 11 June 2020, that the increase in aircraft maximum loads is addressed in a regulation issued by the Minister of Transportation (Peraturan Menteri Perhubungan – Permenhub – Nomor PM 41 Tahun 2020) and a circular memo of the Director-General of Civil Aviation (Surat Edaran Direktur Jenderal Perhubungan Udara No 13 Tahun 2020 tentang Operasional Transportasi Udara Dalam Masa Kegiatan Masyarakat Produktif dan Aman Dari Corona Virus Disease).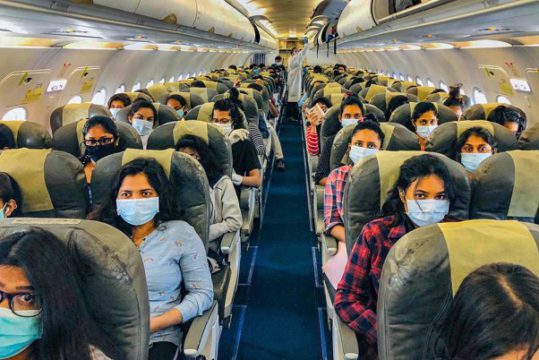 The rules established by the Government have been issued according to the standards of international aviation associations that include the ICAO, EASA, CASA, and CAA.
Novie elaborated that the increase in the maximum carrying capacity of passengers on commercial flights will take place gradually over time while applying strict health protocols inside the passenger cabin.
Novie said the air filtration systems in operation on aircraft and the air circulation within the passenger cabin are incredibly safe and minimize the possibility of COVID-19 infection. Airplanes are using high-efficiency particulate air (HEPA) filters. Adding: "On airplanes, the air filtration and air circulation system in the passenger cabin have been designed to minimalize the spread of viruses and bacteria via very fine filtration. At the same time, the situation remains under continual review for any improvements that can be introduced. The increase in permitted passenger loads will occur gradually, in keeping with international regulations."
The Ministry of Transportation officials said that more than 85% of the airplanes in operation in Indonesia are equipped with HEPA air circulation systems. Simultaneously, the reduction of human contact and interactions, and physical distancing procedures all combine to reduce any risk of viral transmission while flying on an aircraft.
For example, aircraft made by Airbus use an air circulation system inside the passenger cabin that replaces the air every 2-3 minutes using HEPA Systems. Aircraft made by Boeing Corporation use HEPA Systems that combines 50% fresh air, and 50% filtrated air from within the passenger cabin. ATR aircraft do not use HEPA systems but do have two environmental control packs (ECS) with cabin air renewed every five minutes.