Simpleflying.com reports that the Indonesian National Flag carrier – Garuda Indonesia – is seeking to cancel aircraft orders with Boeing and Airbus as part of the company's financial restructuring.
Garuda is seeking to cancel orders with Boeing and Airbus that, if successful, will reduce the Airline's future debt load by US$5.9 million. Set to be axed from the order books are 49 Boeing 737 MAXs and 12 Airbus A330s.
Garuda's Director of Finance and Risk Management, Prasetio, and Chief Executive Officer, Irfan Setiaputra, proposed the aircraft order cancellation during a meeting with creditors on Tuesday, 01 March 2022.
Garuda's total indebtedness is calculated at US$9.8 .
The National Airlines is entangled in a court-supervised restructuring and administrative process seeking to radically reduce its debt load to a more manageable US$3.4 billion. In a post-COVID period, Garuda aims to operate only 66 airplanes, a 55% reduction from a fleet size of 142 planes before the global pandemic struck.
Database ch-aviation says Garuda's current fleet numbers 117 planes, 99 of which are on lease from an estimated 30 different leasing companies. Seeking leasing rates more on par with industry standards, Garuda asks all of its lessors to allow the Indonesian carrier to service its leases with Sukuk Islamic bonds.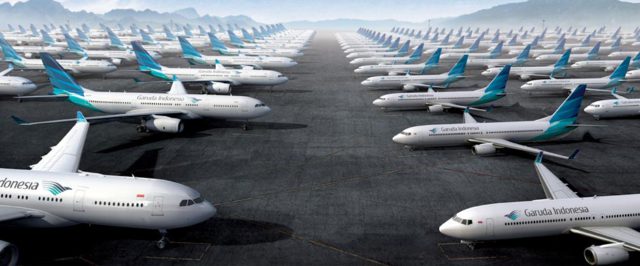 Garuda has pending orders with Airbus for nine A330-900 jets and four A330-800s worth an estimated US$1 billion.
Because Garuda Indonesia aims to consolidate and become a small regional airline, the Airline seeks to reduce its widebody long-haul armada. Accordingly, Garuda wants to end its lease arrangements for all Boeing 777-300ERs.
Garuda is striving to maintain its order for Airbus 320 Neos designated to be added to the Airline's low-cost subsidiary Citilink.
Following Boeing's B-737 MAX aircraft's prolonged grounding worldwide, both Indonesian Lion Air and Garuda Indonesia seek to cancel an outstanding order for 49 of these aircraft. Initially, Boeing was ham-fisted in unsuccessfully blaming the air tragedy at the door of the Indonesian carrier.
Related Articles
Gerinda Party Wants Gov't to Rescue Garuda
Garuda to AXE 41% of its Air Routes
Bracing for a Tearful Farewell to Garuda
Rapid Descent of Garuda Indonesia
Garuda on the Precipice of Collapse?
BEI Suspends Trading in Garuda Stocks
Nikkei Asia: Indonesia's State Airline Garuda Hangs by a Financial Thread
Former Garuda CEO Sent to Prison
Garuda Terminates Another 700 Workers