In an article on gapurabali.com and via his real estate blog, Dominique Gallmann, co-founder and CEO of Exotique Properties, has shared insightful comments on the state of Bali's real estate market.
Now that COVID-19 and its devastating effect on Bali's and the global economy have become a fixture of daily life for the past six months, Gallman looks at the Bali property market and tries to compare this crisis with calamities of the past that include, among others, a global financial crisis, SARS, two terrorist bombings, and a major volcanic eruption.
The current economic upheaval affecting Bali is different from those of the past. COVID-19 is at the root of a global recession in which tourism is among the worst affected economic sectors. In Bali, the property market is inextricably linked to tourism. Where, in the past, terrorist bombings deadened demand and flatlined prices for a period, the COVID-19 crisis, according to Gallman, saw sales almost go to zero.
With its borders closed to visitors, foreign buyers are not traveling to the Island, and those that remained had lost their appetite for property. Gallman reports that some sales were being made in May, mainly undertaken by Indonesian buyers.
While real estate prices remained relatively stable during past upheavals, Bali now appears to be a "buyers' market" for real estate in a sector searching for buyers who have proven few and far between. As a result, Gallman says: "I am told that most of those deals that are being made these days are struck at prices between 30 – 50% below pre-COVID-19 asking prices, mostly freehold properties, of course, and in the middle and upper range of the price segment."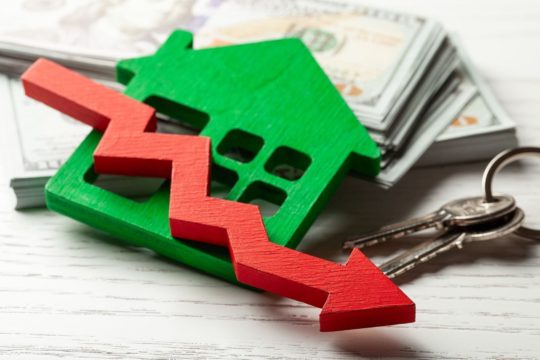 Gallman's suggest that some sellers have been slow to appreciate the severity of the currently depressed property market and are holding firm on price, at least for those properties offered online. Meanwhile, other "motivated sellers" are slashing prices by half but still failing to secure a buyer. Gallman says those seriously looking to purchase should bid aggressively. "In this market, the only way to find out at what price a property is going to be sold for is to make an offer and see what happens," he said.
Gallman remains optimistic that despite "seeing the most severe correction since I have been observing the Bali market for some 25 years," the market will eventually return but probably not in the next few years. The Bali property market is linked to tourism, a sector of the Balinese economy experiencing a degree of unprecedented suffering with no end yet in sight, unlikely to end until the world is once again prepared to travel.
The silver lining, says Gallman, is, "Bali might finally use this as an opportunity to move away from cheap mass tourism to a more sustainable cultural tourism, where the goal is not to achieve annual growth rates of more than 10% but to preserve what Bali has to offer the world and not erode it by ever-growing masses of tourists that clog the roads and destroy the environment."
When asked to comment, a local Notarial firm in Bali, who prefers to remain nameless, said that well before the COVID-19 crisis, the Bali real estate market was already extremely sluggish, beset by problems on several fronts.
By law, foreigners are still legally forbidden to make an outright purchase of freehold land in Indonesia. Before the Pandemic, a "nominee crisis" in which local "owners" lent their names to foreign buyers through complex and questionable legal constructs were coming under increasing scrutiny by taxation, financial, and regulatory authorities. This resulted in a situation described by the Notary office, where "owners just wanted out at any price."
Meanwhile, more legally transparent approaches to acquiring property, including restricted duration leaseholds, and a property market in which prices had largely stagnated, have served to make other property markets much more attractive investment propositions than Indonesia.
The Notarial firm agreed that it would take many years for the Bali property market to recover, saying, "The foreign investment driver is probably gone forever."
Related Link