TEMPO.CO reports that the Indonesian National Flag Carrier PT Garuda Indonesia is reducing its flight network from 237 routes to 140, a curtailment of 41 % in the Airline's operational map. This move follows an ongoing elimination of unprofitable flight routes, such as service to Tarakan, Kalimantan.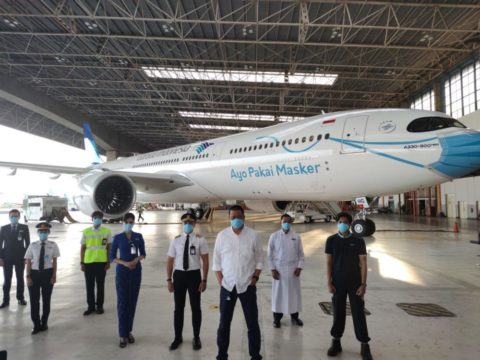 The CEO of Garuda Indonesia, Irfan Setiaputra, told Commission VI of the Indonesian House of Representatives (DPR) on 09 November 2021: "In the past, we have been pressured to open routes that can't be profitable. There are so many pressures to open routes. I ask for your support when we (Garuda) refuse to open a new route. I am sorry, so very sorry."
Irfan told the legislators that Garuda has had to endure losses incurred in operating unprofitable flying routes, producing revenues insufficient to cover the cost of flying to these destinations.
In addition, Setiaputra lamented that Garuda is burdened with operating aircraft types that are not appropriate to the Airline's operating profile, creating inflated operating costs. The two types of aircraft referred to by Garuda's CEO are Bombardier CRJs and ATRs.
Garuda is eliminating both unprofitable domestic and international flight routes. At the beginning of 2020, Garuda eliminated Amsterdam, London, and Nagoya from their destination network.
Meanwhile, Garuda is reducing flight frequencies to many destinations as a means of increasing average seat occupancy. Among the domestic routes now being served with fewer flights is Jakarta – Yogyakarta. "Now, if you want to fly to Jogja, you can only fly in the morning. If you want to go to Jogja and fly back on the same day, please fly back from Solo (Surakarta)," said Irfan Setiaputra.
Route network cutbacks and frequency reduction are just part of Garuda's business restructuring plans. The National Flag Carrier must handle debts that have reached US$ 9.8 billion (Rp. 140 trillion). Negotiations with 36 aircraft leasing companies are ongoing to reduce the operating costs of the Airline.
Irfan told the DPR that the restructuring of Garuda would require around 270 days. During this period needed for restructuring, Irfan said the Airlines needs to turn a consistent profit.
The Deputy Minister for State-Owned Enterprises (BUMN), Kartika Wirjoatmodjo, said Garuda is pursuing three restructuring schemes. First, Garuda will reduce the size of its armada from 202 in 20219 to 134 in 2022 while cutting flight routes and frequencies. Also, in a move to lower costs, Garuda will decrease the types of aircraft they operate from 13 to 7.
Wirjoatmodjo added: "This is indeed a challenge. The restructuring of Garuda Indonesia will see many remote areas of the Indonesian archipelago with decreased or no air connections, which will deliver a heavy blow on business and tourism plans. Many airports will experience a decrease in the number of Garuda flights."
Related Links
BUMN: Garuda is Technically Bankrupt
Bracing for a Tearful Farewell to Garuda
Rapid Descent of Garuda Indonesia
Garuda on the Precipice of Collapse?
BEI Suspends Trading in Garuda Stocks
Nikkei Asia: Indonesia's State Airline Garuda Hangs by a Financial Thread
Former Garuda CEO Sent to Prison
Garuda Terminates Another 700 Workers