I Gede Ari Astina – more popularly known as Jerinx – SID (43), the punk rock musician on trial for defamation and hate speech for critical comments made about the Indonesian Medical Association (IDI), has heard prosecutors in Bali demand a prison term of three years.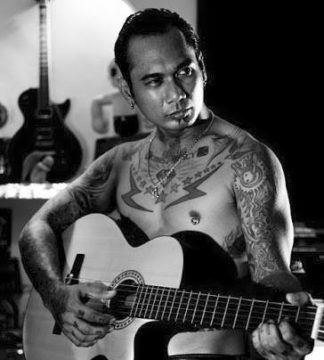 As reported by Tribun-Bali.com, Kompas.com, and NusaBali.com, State Prosecutors asked the Panel of Judges to declare the musician guilty, send him to prison for three years, and fine him Rp. 3 million. Prosecutors defended their sentencing demand, claiming Jerinx feels no remorse for his online postings alleging the IDI was the "lackey" (kacung) of the World Health Organization (WHO). Furthermore, Prosecutors claim that the Indonesian doctors handling the global Pandemic had their feelings wounded by Jerinx's postings.
The Prosecution's review of the case and sentencing demands required 1.5 hours to be read before the Court. The lead prosecutor, Otong Hendra Rahayu, told the 3-judge-panel who will decide the case: "Gede Ari Astina, also known as Jerinx, has been conclusively and reasonably shown under the law to have committed a crime by willfully and without right published (the subject) information. This information was intended to create hate and opposition feelings against an individual or group based on differences of tribe, religion, race, and social grouping.
Otong also said Jerinx had criminally violated Law Number 16 of 2016 on Information and Electronic Transactions, specifically Sections 28 paragraph 2 and Section 45A paragraph 2.
In formulating his sentencing demand of three years behind bars, Otong highlighted that Jerinx has refused to regret his actions or pronouncements publicly and had walked out of the legal proceedings at one point in the trail. Continuing, Otong said Jerinx had sought to cause unrest in the community and wounded doctors' feelings across Indonesia who are handling the COVID-19 Pandemic.
In mitigation and warranting a lighter sentence, Prosecutors told the judges that Jerinx has never been convicted of a crime and was relatively young and, therefore, liable to reeducation and rehabilitation.
The legal defense team of Jerinx led by Wayan 'Gendo' Suardana reportedly could only disapprovingly shake their heads as they listened to the demands of State Prosecutors. The Defense Team will present their response to Prosecutors on Tuesday, 10 November 2020.
Who Wants to Put me in Prison?
Following Tuesday's Court Session, Jerinx commented to the press: "I am amused to watch this process. The Central IDI and IDI Bali say they do not wish to see me imprisoned. So who is it then, who wants to put me in prison and separate me from my wife?"
Continuing, Jerinx asked what he had done wrong. Do I have the potential to disband the IDI? "Just come once to the trial intending to put me in prison. From the Central Board of IDI and IDI Bali (who claim) they do not want to put me in prison. Who is it who wants to put me in prison? Just come to the trial. Show your face her, and I will oppose you in the coming court session," Jerinx Challenged.
Related Articles
Bereaved Mother Speaks at Defamation Trial
Bali Court Hears of JRX's 'Critical' Caring
IDI Testifies Against Rock Drummer JRX
Protestors Turned Away at Defamation Trial
Online Trial of Bali Musician Continues
JRX's Walkout from Bali Defamation Trial
Protests Mount for the Release of JRX
Dangerous to Lose Patience with Your Doctor
Bali Musician Charged with Hate Speech
Governor Reminds Dissenters to Shape Up Bali Rock Musician Accused of Defamation