Bali's Governor Wayan Koster has denied and labeled "hoax" reports in the local press claiming the visa-on-arrival (VOA) fees would soon increase from Rp. 50,000 to Rp. 1.5 million.
Reports in the local press of an imminent increase in the VOA fees triggered widespread opposition in Bali tourism circles who condemned the visa fee increase as inimical to current efforts to rebuild the local tourism industry.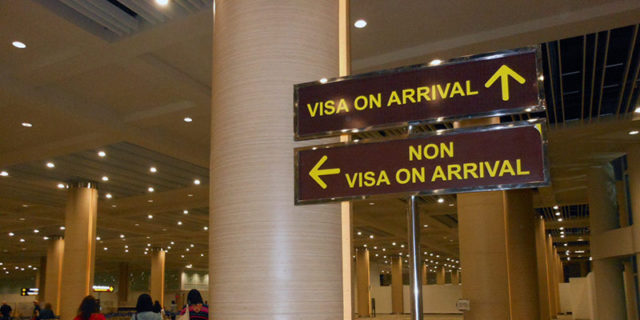 Underlining reports of an increased VOA fee were baseless, Governor Koster said he had personally checked with the Minister of Law and Human Rights, who confirmed there were no plans to increase the VOA fee to Rp. 1,5 million. Adding, "This is untrue. This is a lie. Don't believe it."
Ministerial Regulation Number 9/PML.02/2022 on 16 April 2022 underlines the Rp. 500,000 VOA fee remains unchanged. While the subject regulation sets new rates for various classes of visas, it leaves the VOA fee unchanged at Rp. 500,000.
Of the 23,820 VOA's processed in Bali between 07 March 2022 until 12 April 2022, Australians dominated the visa recipients at 5,888 (24.7%), followed by 2,649 (11.2%) UK nationals and 2,358 (9.8%) Germans.
Immigration officials at Bali's Ngurah Rai International Airport report an upward trend in the number of travelers using the visa-on-arrival facility. Indonesia now extends the VOA facility to the citizens of 42 countries.
Related Article
Plans to Triple VOA Cost to Rp.1.5 mn.
VOA's Trending Upward in Bali Arrivals
DPS Cuts Landing Fees for Int'l Airlines
Bali on 07 March: No Quarantine & VOA Back
Government Plans to Expand VOA Facility
Bali Stakeholders Want Low Hotels Rates
The Difference in VOA & Visitor Visas Explained
How to Obtain a B211A Visa for Indonesia
Bali Airport Ready for Surge in VOA Users
Bali on 07 March: No Quarantine & VOA Back
Making the Shift from Epidemic to Endemic
Towards Living Endemically with COVID-19
Indonesia Heads Toward an Endemic Future
Learning to Live Endemically with COVID