Qatar Airways has resumed daily flight services between Doha, Qatar and Bali, effective 01 July 2020.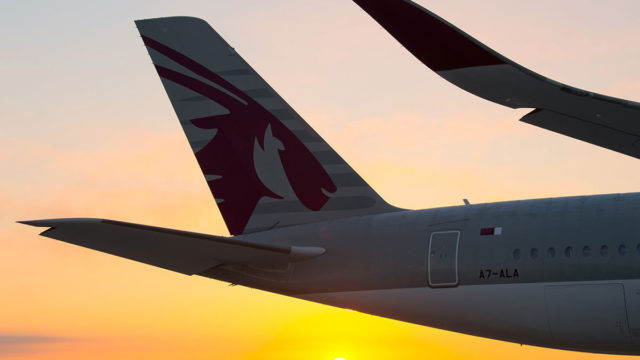 Qatar's extensive global network – via its hub-and-spoke network, links Doha to 150 international Airports across Africa, Asia, Europe, the Americas, and Oceania.
In a statement issued by Qatar Airways, the recommencement of Bali flights represents an essential step in the Airline's phased restoration of flight services to the Asia-Pacific region. It is part of a larger plan to see 430 weekly flights to over 65 destinations return to service by mid-July 2020.
In a historic return to service, Qatar Airways began its resumption of service on Wednesday, 01 July 2020, by reopening 11 destinations.
Dubbed "Take-off Wednesday" by the Airline, the service's schedule being brought back online in the first half of July 2020 includes:
Effective 01 July 2020
Bali, Denpasar (daily flights)
Doha (DOH) to Denpasar (DPS) QR962 departs: 00:45 arrives: 15:45
Denpasar (DPS) to Doha (DOH) QR961 departs: 22:00 arrives: 02:35+1day
Beirut (seven weekly flights)
Belgrade (three weekly flights)
Berlin (three weekly flights)
Boston (five weekly flights increasing to daily from 1 August)
Edinburgh (three weekly flights)
Larnaca (three weekly flights)
Los Angeles (three weekly flights, five weekly from 17 July and six weekly from 1 August)
Prague (three weekly flights)
Washington DC (five weekly flights increasing to daily from 1 August)
Zagreb (three weekly flights)
Effective 04 July 2020
Toronto (three weekly flights, new destination)
Effective 11 July 2020
Jakarta (11-weekly flights)
Doha (DOH) to Jakarta (CGK) QR956 departs: 02:20 arrives: 15:20
Doha (DOH) to Jakarta (CGK) QR958 departs: 19:45 arrives: 08:45+1day

Jakarta (CGK) to Doha (DOH) QR955 departs: 00:40 arrives: 05:10

Jakarta (CGK) to Doha (DOH) QR957 departs: 18:25 arrives: 22:55
Effective 09 July 2020
Ankara (three weekly flights)
Effective 11 July 2020
Zanzibar (four weekly flights)
Effective 13 July 2020
Kilimanjaro (three weekly flights)
Effective 15 July 2020
Bucharest (four weekly flights)
Sofia (four weekly flights)
Venice (three weekly flights)
Qatar Airways continues to work closely with governments worldwide to resume commercial flights in line with each destination's respective entry restrictions. The Airline is hopeful further commercial flight restrictions will be eased throughout July, with the carrier planning to resume almost two-thirds of its pre-COVID-19 network by the end of the month. The Airline expects the number of flights to double in July with close to 3,500 flights scheduled, compared to just under 2,100 in June.
Refund and Rebooking Policies
To bolster customer confidence and peace of mind as the world embarks on "the new normal," the Airline will allow unlimited date changes, and passengers can change their destination as often as they need if it is within 5,000 miles of the original destination. The Airline will not charge any fare differences for travel completed before 31 December 2020, after which fare rules will apply. All tickets booked for travel up to 31 December 2020 will be valid for two years from the date of issuance.
Health Protocols on Qatar Airways
Qatar Airways has enhanced its onboard safety measures for passengers and cabin crew. The Airline has introduced Personal Protective Equipment (PPE) for cabin crew, including gloves, face masks, safety glasses, and a new protective gown that is fitted over their uniforms. A modified service that reduces interactions between passengers and the crew inflight has also been introduced.
Onboard, all Qatar Airways passengers are provided with a complimentary protective kit. Inside a ziplock pouch, they will find a single-use surgical face mask, large disposable powder-free gloves, and an alcohol-based hand sanitizer gel. The Airline has also introduced disposable face shields for adults and children.
Passengers traveling from Hamad International Airport (HIA) in Doha will receive their face shields at the check-in counters. In contrast, at other destinations, the face shields will be distributed at the boarding gates.
Bali flights will be operated on Boeing 787-8 aircraft configured with 22 flatbed seats in Business Class and 232 seats in Economy.