The months' long criminal trial of I Gede Ari Astina, better known as Jerinx SID, has come to an end in a Denpasar Courtroom. On Thursday, 19 November 2020, the punk rock drummer received 14 months in prison after being declared "guilty" of criminal defamation and hate speech perpetrated against the Indonesian Medical Association (IDI). The Court also fined Jerinx Rp. 10,000,000 that, if left unpaid, will add one month to the sentence.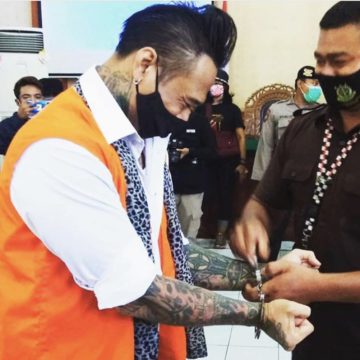 While the sentence was less than the three years in prison sought by State Prosecutors, Jerinx offered little comment after sentencing, choosing, instead, to embrace his wife as he was escorted back to the police van used to transport him back to Bali's Kerobokan Prison.
Under Indonesian law, Prosecutors and the Defendant are allowed a 14 day period to decide whether or not to accept the Court's Sentence or appeal both the decision and the sentence to a higher court. Under an appeal initiated by either the State Prosecutors or the Defence team, the Court's verdict could be affirmed or dismissed; or the sentence affirmed, dismissed, reduced, or even made more severe.
However, under Indonesian law, Prosecutors are obliged to automatically file an appeal seeking a sterner punishment if the sentence handed down by the Court is anything less than two-thirds of their original sentence demand. Accordingly, because prosecutors had sought a penalty of three years and a fine of Rp. 10 million, the 14-month sentence must be appealed to a higher court.
As reported by Kompas.com, Sugeng Teguh Santoso, one of the attorneys representing Jerinx, told reporters that his client was very upset by the Court's verdict and sentence. "The facial expression of Jerinx shows his disappointment with this decision," said Sugeng.
In the closing sessions of the trial, Jerinx appealed to the Court that if he must be found guilty of the charges, he requested that he receive a probationary sentence of house arrest.
Jerinx has been held in police custody for more than three months since 12 August 2020 while police and prosecutors prepared his case for trial.
In rendering their verdict, the three-panel judicial panel said I Gede Ari Astina was proven guilty of propagating hate speech against the IDI when he accused the medical grouping of being "kacung" (lackey) of the World Health Association (WHO) on his Instagram account (@jrxsid).
Before sentencing and while entering the courtroom, Kompas.com reports Jerinx saying: "I hope that democracy is not dead. Indonesia is a democracy.
Related Articles
Final Statement in Jerinx Defamation Trial
Prosecutor Seek 3 Years Prison for Jerinx
Bereaved Mother Speaks at Defamation Trial
Bali Court Hears of JRX's 'Critical' Caring
IDI Testifies Against Rock Drummer JRX
Protestors Turned Away at Defamation Trial
Online Trial of Bali Musician Continues
JRX's Walkout from Bali Defamation Trial
Protests Mount for the Release of JRX
Dangerous to Lose Patience with Your Doctor
Bali Musician Charged with Hate Speech
Governor Reminds Dissenters to Shape Up