A proposed South Bali Ring Road (JLS) intended to rim the east, south, and western perimeter of Bali's southern peninsula is currently budgeted to cost Rp. 2.7 trillion. Those supporting the project are now calling for the approximate 36.5-kilometer roadway to be designated a National Strategic Project (PSN) to facilitate funding by the Central Government.
Quoted by RadarBali.com, the head of the Public Works and Housing Service (PUPR), IB Surya Suamba, confirmed on Wednesday, 29 March 2022, that a written recommendation to change the project initially planned as a public-private partnership into a National Strategic Project has been signed by the Regent of Badung, I Nyoman Giri Prasta.
According to Suamba, the effort to designate the JLS Project as a National Strategic Project funded by the Central Government has been sent to the Ministry for National Planning (Bappenas). If Bappenas approves, the National Government will bear the Badung Regency's Regency's recommendation for the entire project's cost.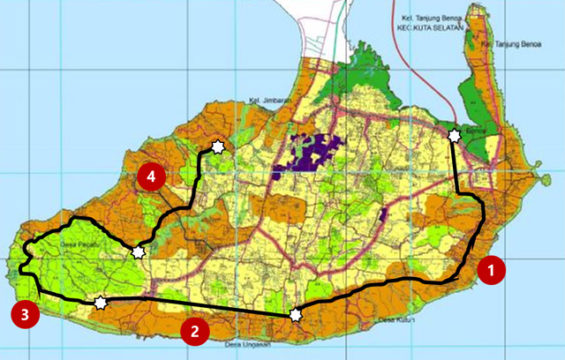 The South Bali Ring Road (shown on the map image) is planned to be constructed in four segments:
Segment #1: 12-13.2 kilometers
Segment #2: 8.2 – 9.9. kilometers
Segment #3: 7.8 Kilometers
Segment #4: 5.5 – 5.6 Kilometers
Due to reduced tax revenues in Bali and large expenditures incurred in dealing with COVID-19, the Regency is seeking Central Government funding so land acquisition can commence as a prerequisite to constructing the road.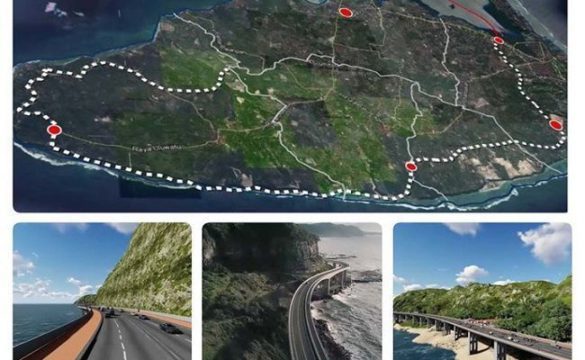 The budget for land acquisition is calculated at Rp. 700 billion.
Whether the new southern ring road for Bali will go ahead in the near to medium future will depend on whether the Central Government accepts the recommendation to designate the project of strategic national importance.
Related Links
96.9 Km Gilimanuk-Mengwi Toll by Nov '24
Bali Toll Road Rates to Increase
Gilimanuk Toll Road Work to Begin Q4 2021