Bali-based punk band drummer Superman is Dead, I Gede Aryastina, also known as Jerinx, was finally released from Bali's notorious Kerobokan Prison on Tuesday, 08 June 2021.
When released at 9:00 am on Tuesday, Jerinx emerged from the prison wearing a black shirt with a piece of traditional textile worn as a scarf. Waiting at the prison's door were his wife, Nora Alexandra, his father Wayan Arjono, and two fellow band members – Bobby Cool and Eka Rock.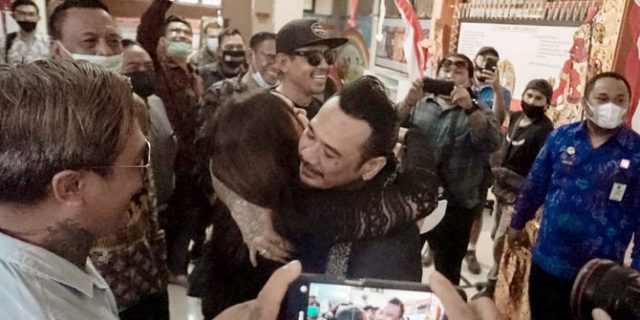 Known by reputation for his spirited oratory, Jerinx, on this occasion, chose not to comment to the waiting members of the public and the press.
As reported by NusaBali.com, the musician's legal counsel – I Wayan "Gendo" Suardana told the crowd: "Jerinx apologizes that he is unable to make a public statement due to certain considerations. Later, if the situation permits, he will hold a press conference where friends can question him directly."
Gendo also said that Jerinx would soon hold a traditional Bali-Hindu "melukat" purification and cleansing ceremony – conducted by his mother. She is a priestess of the dominant Hindu religion of the Island of Bali.
Separately, the head of the Kerobokan Prison, Fikri Jaya Soebing, stated that Jerinx exhibited good behavior while in prison. Adding: "Like other prisoners, he (Jerinx) followed prisoner development programs. As an artist, he joined other prisoners in composing several songs that will be put into an album."
Soebing said that during his ten-month incarceration, Jerinx received no visits from him family. Because of rules in place due to the COVID-19 pandemic, Jerinx's communication with his family was limited to video calls.
Following unsuccessful efforts on appeal by State Prosecutors to extend Jerinx's ten-month prison term, the Tuesday release from jail took place after paying a supplemental fine of Rp. 10 million. That amount, reportedly collected from fans and friends, was paid in large bundles of small change to State Prosecutors.
Jerinx was placed under arrest on 12 August 2020 based on a police complaint made by the Indonesian Medical Association (IDI) for statements published on the musician's social network accounts. The musician accused the IDI and Bali hospitals of being "lackeys" (kacung) of the World Health Organization (WHO) made on 13 June 2020 constituted "hate speech" under the National Internet Transmission Law.
Related Articles
Free at Last: Jerinx of Superman is Dead
Bali Rocker Jerinx Set for Release
Prosector's Want More Jail Time for Jerinx
Jerinx Sentence Reduced 4 Months on Appeal
State Seeks to Increase Jerinx's Sentence
Jerinx-SID Jailed 14 Months for Defamation
Final Statement in Jerinx Defamation Trial
Prosecutor Seek 3 Years Prison for Jerinx
Bereaved Mother Speaks at Defamation Trial
Bali Court Hears of JRX's 'Critical' Caring
IDI Testifies Against Rock Drummer JRX
Protestors Turned Away at Defamation Trial
Online Trial of Bali Musician Continues
JRX's Walkout from Bali Defamation Trial
Protests Mount for the Release of JRX
Dangerous to Lose Patience with Your Doctor
Bali Musician Charged with Hate Speech
Governor Reminds Dissenters to Shape Up Bali Rock Musician Accused of Defamation